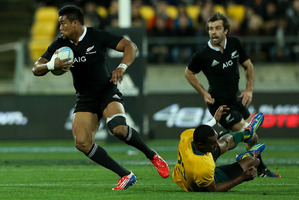 It's been a while since the All Blacks lost at home. Almost four years to be exact since the Springboks got the cookies in Hamilton.
Half that All Black side is in the frame for the resumption of the Rugby Championship when Argentina visit next week. If the Pumas carry any superstitions they should ignore the form book.
Since that 2009 defeat, the All Blacks have won all 27 tests at home including two in Hamilton when they scored 143 points to seven against Japan and Ireland. Ireland failed to score a point last year when the All Blacks put 60 past them, while Hirotoki Onozawa scored an intercept try for Japan when they were belted 83-7 at the World Cup.
Something was not right four years ago. The All Blacks were in an untidy patch where they lost three tests against the Boks, separated by the 19-18 win against the Wallabies.
After that win in Sydney there was a little optimism the All Blacks could recover in Hamilton against South Africa. While the eventual 32-29 score was close, the All Blacks were always chasing the game. There were a lot of strange things about that match: Ma'a Nonu played centre, Stephen Donald was second five-eighths, while it was Isaac Ross' eighth and final test at lock. It was also the All Blacks' 100th defeat in tests.
Since Steve Hansen took over last season, the All Blacks have drawn with the Wallabies, lost to England and won their 17 other tests. They are competing well although their work this year is probably only about 80 per cent to their liking.
That is a frightening concept for their rivals.
In Wellington, the forwards did not protect Aaron Smith well enough at the start, while Michael Hooper got amongst them at the breakdown. Tactical kicking and restarts were mixed and they were breached more often than they would have expected.
But two killer tries demonstrated their danger. "The accuracy and execution when opportunities arise is fantastic," former Wallaby warrior Stirling Mortlock said.
It's that pace of the game and attacking skill which pull in the crowds. There are some tickets left for Hamilton but the 25,100 capacity is expected to be reached.
The Chiefs' repeat Super 15 success, Waikato's Ranfurly Shield tenure and the All Black test have challenged supporters' wallets and officials have decided not to build temporary seats for 5000 extra spectators at the test.
They might also be wondering when they will get another biggie - when the Boks or Wallabies will swing into Waikato Stadium. If Dunedin can host a third transtasman test this season, Hamilton should get a significant international.
Perhaps they will host England for one of their three tests next June and there goes a flying pig.