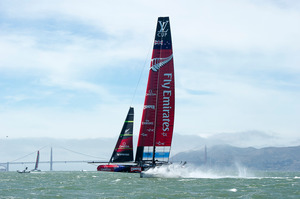 Team New Zealand clocked up another jaw-dropping America's Cup speed record yesterday and the whispers are that NZL05 is capable of going much faster, with the magical 50 knot barrier mentioned.
The Kiwi boat hit speeds close to 90km/h as they blitzed Luna Rossa in race seven of the Louis Vuitton Cup final, twice eclipsing their previous best of 44.15 knots set in the round robin.
They hit 44.8 knots on the first reach, before their speedo ticked a shade over 47 knots in a wild rounding at the top mark - the same area of the course where they took a nosedive in race one.
In a finals series that has failed to deliver compelling racing, the record generated excited talk from commentators and fans but went unnoticed by the crew on board.
"We were unaware of it until the shore crew jumped on board and told us we had a new speed record, and we're sort of going 'oh really, when was that?"' said Team NZ strategist Adam Beashel.
"We're trying to get the thing going faster and faster every day, so it's just nice to know the numbers are going up."
The speeds being recorded in San Francisco are unprecedented for the America's Cup, with the foiling catamarans sailing at speeds five times faster than the traditional monohulls used in previous editions. Even Oracle Team USA's giant 27m trimaran, nicknamed 'Dogzilla', in which they beat Alinghi in a Deed of Gift challenge to claim the the America's Cup, did not crack 40 knots.
Despite his team copping another hefty loss as Team NZ moved to match point in the finals, Luna Rossa helmsman Chris Draper could not help but be enthused by the exhilarating ride around the race course.
"Ten years ago we would have set the world speed record today, but we're racing those boats around marks." said Draper, noting his team broke the 46 knot mark on a reach before the race.
"They're just nuts to sail."
There is an air of resignation about the Luna Rossa team as Draper accepts there is little they can do at this point to best Team New Zealand.
While their performance numbers show the Italian boat has got a lot better since the round robin, the Kiwis continue to stay ahead on the development curve. Draper said he has no doubt Team New Zealand is capable of going faster.
"I've heard whispers of their top speeds, and it's pretty up there," he said. "I could imagine you might see a five at the front at some point, but we'll see."
Beashel said his team are keen to crack the 50 knot mark, but would not say if the boat had done it before in training.
"I know it's doable, but you've got to get the stars to align so it'd be nice to be the first boat to do it," he said.