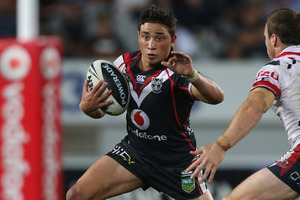 The Warriors got over a sizeable hurdle with their win over the Cowboys on Monday but it doesn't get any easier and the key will be approaching Sunday's matchup with the Rabbitohs with the same attitude.
It's a mindset they really should be adopting every week. It's a cliche, but there are no easy games in the NRL and Souths are clearly one of the top sides and are enjoying their best start to a season since 1971, when they won 20 games in a row on their way to lifting the premiership against St George.
It doesn't help that the Warriors have some injury concerns, and they have also had issues with their prop rotation. That's why attitude is so important.
It's the aspect of the game that fullback Kevin Locke needs to focus on the most every week. What he did last week against the Cowboys was exactly what he needs to do every week. I don't know if it was desperation or not, but he performed like we know he can.
He's a very gifted kid who's got all the ability to be one of the best fullbacks in the competition but he needs to understand that his team needs him to perform at his best every week. He can't do it every once in a while and there's almost a sense he's happy enough to be second best.
In this game, you have to be at your best every week or you will be found out, especially in his position. He's experienced enough now, having played 71 NRL games. He should know what to expect.
It's hard to know what influence the off-field issues are having on his game but if he can keep his home life in shape then it can only help his professional life.
Maybe it was the presence of Cowboys fullback Matt Bowen that brought out the best in him. If that's what motivated him, then there's an even bigger challenge waiting for him this week in the shape of Souths fullback Greg Inglis.
Locke should be pushing the boundaries to unleash his full potential every week and I am sure he will not be disappointed with the results. He should be saying in his own mind, "I'll show him". He should be excited about playing Inglis to gauge himself against one of the best players in the world.
It was a relief to see the Warriors win on Monday because, after getting so close, I'm not sure they would have coped very well if they had been beaten. That win will give them self-belief and a good reminder of what it takes to win.
The return of hooker Nathan Friend was critical, and it seemed like everything worked because he played at a different tempo. He made things happen and others were more confident.
A lot of the Warriors played very well but no one stood out amazingly. That's a good thing because it takes a team effort to win games, not just individuals, and everyone has to play to their potential to get the results in the toughest competition.