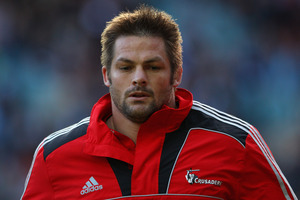 The intriguing thing for me this season will be the performance of the Crusaders - as I don't think they have shown us much over the last few years of Todd Blackadder's reign.
They have a week off, so we won't get to see them in proper game mode until they take on the Blues on Friday night but they've said they will be playing a more attacking brand of rugby after four years of making it to the finals but going no further.
I'm glad they've said that openly. It puts themselves on notice and a more attacking brand of rugby is well overdue. I think the reason the Crusaders haven't won the competition in the last four years - exempting that heroic effort in 2011 after the earthquake, where they played pretty much everything 'away' - is that they just haven't innovated enough; they haven't changed as much as the game has changed.
Let me be very clear - I am not getting at the Crusaders and I would be glad to be proved wrong, and happy to digest a man-sized piece of Humble Pie. But I am not sure that the changes they have made will adequately support the goal they are seeking.
I'm not sure they have the goods to play that attacking style. Sean Maitland is gone and so is Zac Guildford, unless they work out some way to get him back from his troubles. That puts a lot of pressure on Israel Dagg as an attacking force and Dan Carter - and I note they have relieved Carter of the vice-captaincy so he can focus on his game.
That puts a lot of intensity on those two; defences will be aiming at them big time. A couple of injuries and a new brand of attacking rugby could be hard to sustain. I think the Crusaders have relied a lot on their experienced players to get them through and fair enough - who wouldn't?
But in doing so (and remember there is no Richie McCaw while he's on sabbatical), they maybe haven't changed things enough to prevent the best defences from working them out.
Remember what England did to the All Blacks last year? They did their homework, worked them out and knew what to aim for. All right, we can say they were tired after a long season, but Manu Tuilagi said it all after he scored that soft, intercept try. He said they had analysed the All Blacks and knew that Kieran Read would take it into contact and then offload short.
That's what I am saying about the Crusaders. They maybe have stayed with the tried and true a bit long. They lost Daryl Gibson as attack coach but I am not sure that Tabai Matson and Aaron Mauger - both of whom have been around before - will be all that different in approach.
I am not sure their playing depth is what it was either. Ben Franks has left (though he'll need to play well at the Hurricanes to stay ahead of the likes of Jeffery Toomaga-Allen, Reg Goodes and Ben May) and that reduces the experienced front row stocks. They have Sam Whitelock, Luke Romano, Tom Donnelly and Dominic Bird at lock - plenty of depth there but I'm bound to say they do not yet have the grunt that Brad Thorn gave them. Plus, no McCaw.
So they'll be under a whole mess of pressure, the Crusaders, and, lest I am sounding like too much of a misery, that is often when they do best. But you do wonder if they've got the tools to do the job they want to do this time. Toddy Blackadder already has grey hair. It could be white if they do not get away to a good start against the Blues, Canes and Bulls.
Meanwhile, the Chiefs-Highlanders clash on Friday showed that both will win more than they lose and have a pretty good future this season. The Chiefs got the bounce of the ball and I thought they remained just a little more composed than the Highlanders.
The Dunedin men missed Andrew Hore, Brad Thorn and Tamati Ellison more than the Chiefs missed their absentees. Those who stepped into the breech did so a little better than their Highlanders' equivalents, I thought - like Tim Nanai-Williams, who scored a couple of cracking tries.
I thought too that some of the Highlanders' big guns were spiked a bit - Tony Woodcock was matched by Ben Afeaki and Ma'a Nonu tried to do a bit too much towards the end - though they were playing catch-up and he probably felt he had to.