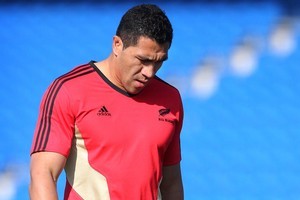 All Black Israel Dagg should be fullback against Canada on Sunday.
He is fit, he is the form All Black in his position, he has delivered a consistent spark to the backline and needs to stack another game in his test rack.
Dagg has played three tests this season after a lengthy recovery from a serious thigh muscle injury and his game is coming nicely to the boil.
He needs all the time he can get on the park to "feel" the rhythm of the tournament, the pulse of test rugby and the squeeze of World Cup expectation.
He won't get that sitting in reserves or in the stands waiting for a quarter-final appearance. Putting him on the wing is not the solution either.
It might help with the injury worries but coach Graham Henry was insistent at the start of this tournament that Dagg was a fullback not a wing.
If there's any shifting to be done, Muliaina can plug a gap on the flank. But there was a whiff yesterday that he might get a run at fullback against Canada.
"If Millsy comes in, he is a quality player, he has been around for a while so I wouldn't be surprised if he plays really well," Dagg said of the fullback jockeying.
"I have just got to train hard and work hard and if I get those opportunities again I will do my best."
Read into that what you will. The selectors have several problems.
The respected Muliaina has played 98 tests and is leaving for a contract in Japan. He has been a terrific All Black but this season his form has plateaued.
Injury pestered him and he has not recaptured his zing. He was a modest contributor in four tests while Dagg sparkled.
The selectors tried to get Muliaina another test against Japan but a hamstring failed to co-operate. Now they are looking at ideas so he can join Richie McCaw in the 100-test club.
Canada this week, then a bench job against Argentina in the quarter-finals? What about team targets over-riding personal goals?
The All Black selectors are caught in the crosshairs. Sentiment is eating at their thoughts while Dagg discounts all sorts of theories and scenarios but reckons he will be fit if required.
"Everyone that comes into the jersey is going to play really well and wants to play really so that is part of being in the All Blacks," he said.
"Everyone is really talented so everyone vies for the positions and trains hard."
Assistant coach Wayne Smith oversees the backs but was edgy about selections with the team not due to be announced until Friday.
Dagg was keeping him and the panel right in his sights.
"He is the wonder-boy at the moment isn't he with everyone," Smith said.
"I don't know if he is different or unique. He is certainly an exciting player who has shown he is up to the level and he is having a particularly good patch.
"I think with someone like Israel, and just about our whole team on game day, there is a glint in their eye and it is the best day of the week for them and certainly for Israel he just loves to play.
"So he's not one who gets nervous about the game, he just loves it.
"The key for any player [is] to love what you are doing and that's what he does."