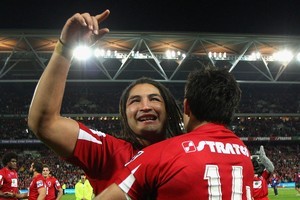 I've never encountered so many Aucklanders upset at Canterbury losing a rugby game and, as heartless big city slickers with no shame, it goes without saying there is an ulterior motive behind the despair.
The All Blacks will lose the World Cup - that's the subtext to the Super 15 grand final. The nerves are jangling, the World Cup is not far away.
The Queensland Reds were fabulous in victory over the heavily-favoured Crusaders, relying on a resilient defence akin to Wallaby sides at their best.
The most effective Australian rugby defences aren't overly confrontational, but use smarts, speed, and stamina. This was also a hallmark of winning Brumbies teams.
Once again, Suncorp Stadium starred in its own show. Suncorp is the theatre of sporting dreams.
In an atmosphere like that, the quality of a game becomes almost irrelevant and hard to gauge. With so much on the line, every moment - the good and bad - is a heartstopper. This translates brilliantly to the television audience. The final was tense and fabulous entertainment.
As the crowd roared the Reds on, you wondered why New Zealand crowds don't also roar their teams on or even turn up anymore.
As we mulled this over yesterday, a Herald photographer who has worked extensively at Australian sports grounds, and particularly remembers the fervour at packed Aussie Rules stadiums, suggested quite simply that Kiwis have a more reserved nature.
While talking to the Wallaby great Phil Kearns last week, he enquired as to why only 14,000 people were at Eden Park to watch the playoff match between the Blues and Waratahs.
Being a charitable sort, he acknowledged that it wasn't the best of nights weather wise, but said this Auckland public no-show was regarded as an intriguing mystery across the Tasman.
The collapse in rugby interest may well be a case of death by a thousand cuts, but make no mistake - it is real, and a weird national phenomenon that deserves proper, independent and scientific study.
The results could be fascinating if conducted by specialists in research rather than a couple of blokes wearing scrum caps and "I love Sonny Bill" tattooed on their biceps.
The New Zealand Rugby Union leans on the unscientific when analysing their position. They don't appear to accept or know the scale of the problem, and thus that they should venture outside their cabal for solutions.
This column has been accused of being negative about rugby and yet I would argue that ignoring a serious and obvious problem is actually the negative response.
The rugby leaders stare at empty stadiums and dream up slogans like "Four million fans".
Believing in these figures is akin to believing those condom manufacturers' surveys that come up with conclusions such as that the average New Zealander has sex 97 times before breakfast on Monday morning.
There is a scientific phenomenon called interviewer bias, and anyone who observed the way Robbie Deans was cast aside would know the NZRU are absolute specialists in this field.
Of course the World Cup organisers will celebrate ticket sales, as they are entitled to do, but this does not reflect the real rugby story in New Zealand any more. Saturday night was a wonderful and vibrant rugby occasion the likes of which exist only in memory banks for this country.
Deans will be smiling.
He is central to the new spirit in Australian rugby, one that has placed faith in rising, talented footballers - David Pocock, Quade Cooper, Will Genia, James O'Connor et al.
Imagine this Wallaby backline: Genia, Cooper, O'Connor, Adam Ashley-Cooper, Digby Ioane, Rod Davies, Kurtley Beale.
Wow and scary ... if a little on the small side apart from the redoubtable Ashley-Cooper.
As an avowed fan and supporter of Deans, and someone who still feels angry at the motives behind his snubbing as All Black coach, it is impossible to avoid pointing out that the Crusaders have not won a title since he left.
Among the arguments put forward during the coaching debate was the preposterous one that Deans had little to do with the Crusaders' relentless success, that he was the fortunate driver of a colossuses that worked on auto pilot.
Here are more World Cup theories, including contradictory ones:
* The Reds have done New Zealand a favour by raising the desperation levels and further reducing the air of overwhelming favouritism and expectancy that hampers All Black teams at World Cups.
* There is no correlation between Super success and test performances so the Brisbane result doesn't count.
* If you were drawing a graph, the Australian worm would be rising quite steeply and the New Zealand one falling slightly. Whether they cross paths this year may determine the World Cup outcome although the mercurial French and the power games of South Africa and England could blow both away.
The Super 15 final confirmed that key All Blacks - Richie McCaw, Dan Carter and Brad Thorn - are on a downslope. The NZRU's decision to re-sign McCaw on a four-year deal was based on sentiment and public relations, and he is unlikely to see the term out. His decline is injury-related, and a case of bad timing for New Zealand's World Cup hopes.
Enough of the theories.
It's time to heartily congratulate the Reds on one of the finest turnarounds in southern hemisphere sport.
They were boring easy beats not long ago, and have been resurrected via exhilarating rugby.
Coach Ewen McKenzie has done a sensational job.
And it is great to see a rugby coach on the sidelines such as you see at soccer and gridiron, instead of ruling from an ivory tower.
His Reds are the most unlikely of all the Super champions and certainly among the most worthy.