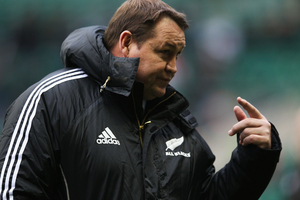 New Zealand Rugby Union boss Steve Tew says only now are we beginning to see the "real" Steve Hansen.
That, says Tew, is an All Blacks coach who is honest, forthright, loyal and funny - and boy, didn't we see all of those characteristics in Sky Television's documentary The Weight of a Nation on Sunday night.
Hansen, one of Sir Graham Henry's assistants during a tournament which ended in an agonising final victory over France, was the star of a film which included such heavyweights as Henry and captain Richie McCaw.
His comments about Wallabies rival Robbie Deans wishing to appear as a "martyr" when failing to get the All Blacks coaching job after the 2007 World Cup have not surprisingly made headlines here and in Australia.
How the interviewer posed the questions isn't known, but the answers look stark in black and white and are the continuation of a mutual loathing which goes back more than 15 years.
Honest? Sure. Willing to bury the hatchet in an otherwise rosy retrospective? Not likely.
"If you want my honest opinion, I don't think Robbie wanted it [the All Blacks job] anyway," Hansen said.
"I think Robbie had already signed for Australia.
"I think he just went through the motions and wanted to be the martyr if he didn't get it, so he wins on both sides of the table. That's how I felt about it because you don't go to a selection meeting [with the NZRU] and when asked, 'Who are going to be your running mates?' - knowing that the opposition [Henry] has got two pretty good candidates [Hansen and Wayne Smith] behind him - with a wishy-washy answer. He did.
"And that's why he lost the job, from my understanding. So, did he really want the job?"
If Deans, under pressure due to a lack of results and rumours about Wallabies tensions, keeps his job after next year's British and Irish Lions tour, that soundbite is bound to be repeated before the Bledisloe Cup series. Hansen won't care too much. His humour is well-known to his players and friends and he has shared more of that with the media, and by extension the public, this year. But there is no doubting his hard edge, as the Deans comments show.
Tew, a good mate of Hansen's, said yesterday the All Blacks coach was finally letting his guard down.
"He's become much more confident and open with you guys [media] and I think we've seen the real Steve Hansen come out which is something actually that I've been seeking to happen for some time.
"But he's also had a very good year, so the test will be if we have a more challenging set of results, won't it, because that's when you have to deal with the more challenging side of the media. But Steve is very confident and I think he's a very humorous individual and ... we're just seeing a bit more of the normal Steve Hansen."
That's a Hansen prepared to become surprisingly emotional on camera about his relief over that Cup win and the joy it gave the New Zealand public - but ruthless too.
A parting shot? Referring to Quade Cooper's willingness to target McCaw with cheap shots before the World Cup, he said: "I think the players think, who do you think you are carrying on like that? It's not the way New Zealanders behave." APNZ
- APNZ