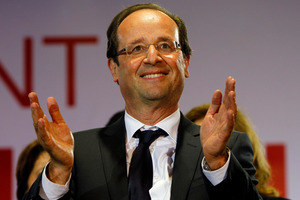 When presented with the choice of clinging to what they already have or subjecting themselves to painful reform in pursuit of potential long-term gains, people tend to concentrate on their immediate concern.
It is, therefore, little wonder that the results of elections are casting a new cloud over the eurozone. In France, voters have endorsed Francois Hollande, a moderate socialist who has pledged to leaven the austerity programme of his predecessor, Nicolas Sarkozy. At the same time, Greek voters have punished the two parties that backed an international bailout of their country's woeful economy, creating the prospect of a damaging political stalemate.
In both cases, the clear wish of voters was for relief from cost-cutting policies designed to bring down debt levels across the bloc. They supported more emphasis on government-sponsored stimulus to revive growth. Mr Hollande has become the central figure in this with his promise to renegotiate Europe's fiscal discipline treaty to promote growth as well as limit borrowing.
That places him at odds with Angela Merkel, the centre-right German Chancellor, who had enjoyed a strong working relationship with Mr Sarkozy.
This has spooked financial markets. Michael Hewson, an economist at CMC Markets, captured the tone when he described victory for Mr Hollande as "Europe's worst nightmare". That is a considerable overstatement. It fails to take account of the new President's strictly circumscribed room for manoeuvre in harsh economic circumstances. He takes charge of a country that next year will have to borrow a sum equivalent to 20 per cent of gross domestic product just to roll over its current loans. In such a situation, it is difficult to think that Mr Hollande would wish to take on the markets.
He must also face the reality of Germany's dominance. As countries like Greece and Spain struggle to stay afloat, they must look to more solvent nations like Germany to provide the demand that, in the end, will be pivotal to pulling the euro bloc out of recession. Adopting a combative tone with Angela Merkel or the markets would simply drag them deeper into the mire. Greece is in absolutely no position to demand a renegotiation of the terms of its bailout. Indeed, if its crisis response is seen to be stalling, the likely reaction will be higher interest rates, not just from Greece but other countries seen to be holding too much debt.
Given this, good sense will surely prevail in time. Mr Hollande must realise that policies such as allowing people to retire at 60, instead of the 62 imposed by Mr Sarkozy, are unrealistic. They are hardly a recipe for meeting his goal of reducing the French budget deficit to zero within five years. Greece, for its part, must cobble together some sort of government of national unity composed of pro-Europe parties. This would have to provide solid and sustained proof of stability and commitment to the bailout before it could even think of amending the terms.
In the short term, there is bound to be turmoil in financial markets driven by fears about the future of austerity programmes. It will take time for economic reality to triumph over political rhetoric. Mr Hollande's every move, especially his willingness to compromise, will be scrutinised at upcoming G8 and European Union summits. There he will learn the limits of his proposals, and that France and Germany must work together on structural reforms which improve fiscal discipline, while also enhancing the smarter spending of existing funds. Only that, not voters' wishes for a magical stress-free solution, will allow the eurozone to survive.