Marine Recreational Forecasts - Bay Of Plenty
5:19 PM September 3, 2014
Area Description:
Inshore waters from Matakana Island to Mayor Island to Motiti Island and then east to Torere River mouth.
Situation:
A narrow ridge affects the region today. A east to northeast flow develops over the area as a low approaches from the Tasman Sea on Thursday. The low is expected to move across the area Friday night, followed by southwesterlies.
Warnings:
NIL warning for PLENTY
Forecast:
Strong Wind Advisory. Wednesday: Variable 5 knots. Sea smooth. Mostly fine. Thursday: Northeast 10 knots developing in the morning, rising to 15 knots in the afternoon and to 20 knots but 25 knots gusting 35 knots west of Motiti Island in the evening. Sea becoming rough in the west in the evening. Poor visibility in rain developing in the evening.
Outlook:
Outlook until midnight Sunday: Friday: Becoming northerly 10 knots early morning, changing southeast 10 knots at night. Occasional rain. Saturday: Southeast 15 knots tending southerly 10 knots overnight. Showers clearing at night. Sunday: Tending southwest 20 knots later. Mainly fine.
Swell:
Swell forecast to midnight Sunday: Northeast 1 metre at times, dying out Sunday.
Moon Phases
Sep 02
First Quarter
Sep 09
Full Moon
Sep 16
Last Quarter
Sep 24
New Moon
Isobaric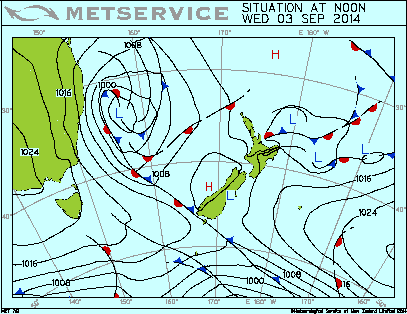 September 3, 2014
Satellite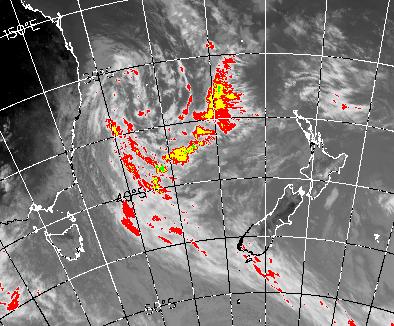 September 3, 2014
For more detailed weather information visit