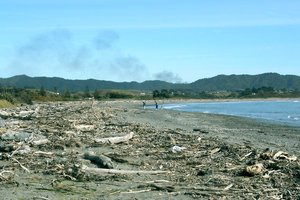 Photo / File
A Bay of Plenty mother had to fight back visions of lifeless bodies washing up on the beach as emergency crews searched the shoreline for four of her children.
The four youngsters were the focus of a dramatic rescue operation after being stranded on rocks by an incoming tide earlier this week.
Tania Te Moni, who gave birth to her 12th child on Sunday, said she woke from a nap at 2pm on Tuesday and immediately knew something was wrong.
Her fears were right. Her children were stranded on rocks by rough seas at Opape Beach, near Opotiki, leading to a dramatic helicopter rescue.
Police have praised the actions of the youngsters, saying they did everything right to ensure their survival.
On Tuesday morning, four of Mrs Te Moni's children - Honey-Pearl, 18, Jesse, 12, Billy, 11, and Danni-Boy, 10 - set off from Opape Beach to walk around the rocks towards Morrison's Bay.
In July 2008, the Sanford-owned fishing trawler San Cuvier ran aground on the same rocks, resulting in the death of two crewman.
"It was something they have done hundreds of times," Mrs Te Moni said. "Each of them knew they had a three-hour gap in which to get home."
It was an "indescribably horrible" feeling when she realised her children weren't home.
"Their dad Roy immediately set off in their footsteps but knew straight away he couldn't walk around the rocks. He then tried to kayak around but that was no good either," Mrs Te Moni said.
"We took the four-wheeler up to the top of the track above the rocks to see if we could hear them but the waves were crashing and sending whitewater everywhere. We didn't have a hope."
At 3pm, Mrs Te Moni decided to phone the local Coast Guard.
"I have to admit there was a slight hesitation because I was concerned about the cost of a rescue but, when I thought about it, I would have paid thousands to get my children back."
Her call sparked an emergency services callout.
Police, Central Helicopters from Opotiki and the Coast Guard from Whakatane and Opotiki were called to the scene. Chopper pilot Alex Loughlin quickly found the youngsters. He landed on the rocks before loading the children and taking them home.
"They'd made a hut and were quite comfortable but, once daylight had gone and the tide had pushed them further and further up the cliff face, I think they would have been in real trouble."
The only way out would have been swimming or scaling the cliff.
"We dropped them right into their backyard where a very anxious but also angry mother was waiting for them," Mr Loughlin said.
Eastern Bay of Plenty Search and Rescue co-ordinator Sergeant Bruce Jenkins praised the actions of the four.
"They realised they couldn't get to shore safely and did the right thing by staying where they were and awaiting rescue," Mr Jenkins said.
"Attempting to swim ashore would have been very dangerous due to the strong currents within the rocks as the waves surge and retreat."
Mrs Te Moni said she and her husband were still driving home the safety message long after the rescue. "This had already happened to Honey-Pearl once before, not long after we shifted here, but she and her sister decided to swim out. They both got pretty cut up and we thought they had learned a lesson.
"Since then we have driven home the importance of staying put and waiting to be rescued."
It was Honey-Pearl who kept her younger brothers calm and busy out on the rock.
"The emergency crews were all amazing; we called at 3pm and had our children back home at 4pm, you couldn't ask for anything more. People need to know that in situations like this, phone for help straight away."
Mrs Te Moni said the children had been quiet yesterday morning. "They got up and did their chores, but they're still grounded," she said.
for more articles from this region, go to ROTORUA DAILY POST