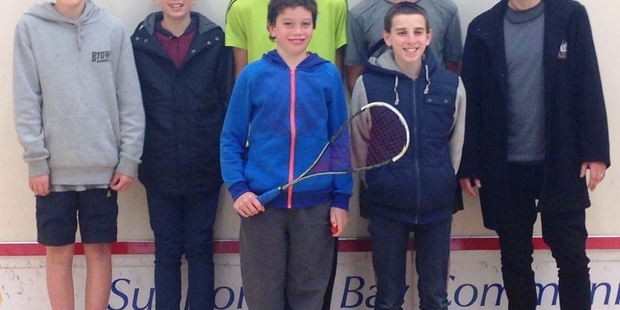 The Devoy Squash & Fitness Centre took home six championship titles in the recent Bay of Plenty superchamps competition.
The Tauranga club hosted the B-grade and F-grade men's teams, with home court advantage a huge boost as the Devoy teams swept through the ties 5-0 without dropping a single match all weekend.
Coached by Marcus Niles, the team was clearly well prepared and will be tough competition at the nationals.
Hot off his recent North Island Under-17 title, Jamie Oakley was all class in his matches against some quality opponents in the B-grade men's team. Older brother Alex Oakley, seeded No1 in the team, blitzed Vaughan Hyde of Whakatane 3-0 in the final, in a masterful display of deft backhand sliced drop shots.
The up-and-coming F men's team featured six juniors playing in their first superchamps competition. Left-handed player Jack Revington showed his experience, targeting his opponent's backhand to put the pressure on and win all his matches 3-0.
Seeded No1 in the D-grade women's division, the Devoy team were matched up against long time rivals Geyser City in the finals. Youngsters Olivia McOnie and Taylor Clarke were standout players from the tournament and easily disposed of their opponents in the tie.
In the D-grade men's finals hosted by Taupo, Tauranga's Greg Cato rattled Taupo's Cole Robinson, out-thinking the youngster to take an unbeatable 3-0 lead. Coached by former A-grade player Shona McQueen, the Devoy team played with clinical control.
The E-grade men's team, co-coached by father and son duo Keith and Michael Dunston, caused a huge upset in the finals against Geyser City by bringing home the district title in a thrilling 3-2 win. Jack Burgess and David Pua both played with total determination in the finals, pulling out huge wins for the team.
Devoy centre president Char Niles said it was the best result in the club's history.