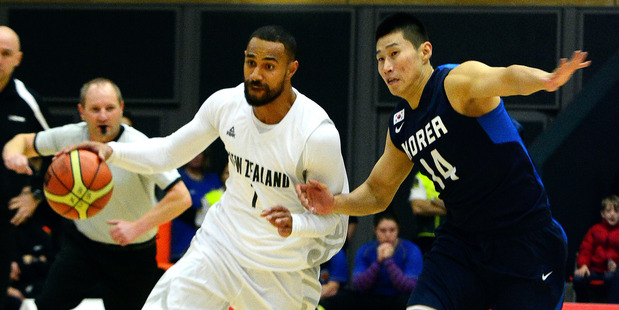 A sold-out crowd saw the Tall Blacks go down by a single point, 76-75, to a resurgent South Korean at ASB Arena.
The tourists were expected to put up a much tougher fight than they did in the opening 102-69 loss on Tuesday night in Wellington, but even their most ardent supporters would have struggled to predict such a massive turnaround inside two days. The tourists took a one point lead into the final four minutes, before a clutch three-pointer from sweet shooting Taejong Moon extended the advantage to 71-67.
Cory Webster, who was one of the Tall Blacks' best all night, drained a pair of free throws to cut the lead to two, before South Korea countered with a high/low pick and roll to restore the advantage.
A Webster jumper brought the crowd to its feet and reduced the lead to two points, with suffocating Tall Blacks defence forcing a shot clock violation with less than two minutes to play.
The visitors, who looked much more comfortable after an extra couple of days in the country, forced the hosts into a number of tough, contested jump shots.
The Tall Blacks recorded just three assists to six turnovers in the opening stanza, and had only the accurate outside shooting Kirk Penney to thank for keeping the margin at just a two-possession game. Back-to-back buckets from Webster followed by a knock down three from the corner from Penney, gave the Tall Blacks a 30-28 lead midway through the second quarter.
Webster showed how much he has grown in the national team in recent times, influencing the game on both ends.
South Korea worked the triangle inside to exploit 18-year-old centre Jack Salt, who struggled in his first stint to make the correct defensive rotations in time, and it was only a Webster three in the waning moments of the first half that gave the home team a slim 40-38 advantage at the break.
South Korea took back the lead in the opening minutes of the third quarter with a floater and fast break bucket, before Thomas Abercrombie answered with two points inside to stop the run.