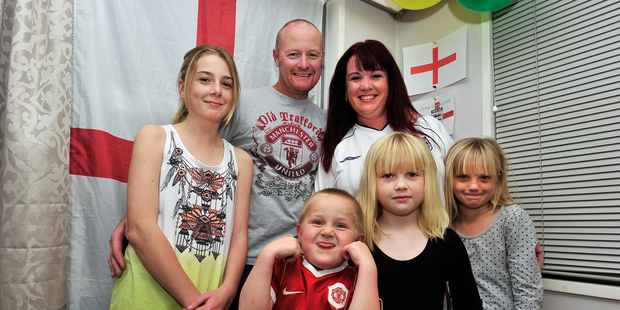 The football-mad Wild family will be glued to the TV during the 2014 Fifa World Cup.
Nina and Dave Wild's Maungatapu home is awash with flags, bunting and the Brazilian colours.
The couple moved here from England 13 years ago, but have not lost their enthusiasm for the beautiful game.
Mr Wild still follows Manchester United, his home team, and the English side and has been hanging out for the tournament ever since the European Championship in 2012.
"We're looking forward to the World Cup. It'll be good," he said. "Hopefully England will get through to the knockout stages although I'm not sure that they will."
Despite the early hour of the games, the first of which will be played this morning New Zealand time, the Wild family plan to watch as many of the matches as possible.
The couple's four children, aged between 11 and 5, were also excited and would be up early to watch the matches with their parents, Mr Wild said.
"We'll cheer on England. You never know," he said. "Probably Brazil will win I think, the home side. They are playing really well at the moment. It's anyone's game, the World Cup. Anyone who rises to the occasion."
It was a shame New Zealand did not qualify this year, but he hoped the tournament would get more Kiwis interested in the sport, Mr Wild said.
While her husband was the real football fan Mrs Wild has taken it upon herself to really make it an occasion. An English flag takes pride of place in their Maungatapu home in the midst of green, yellow and blue decorations.
"Obviously we want England to do well ... they haven't won it since 1966," she said. "We'll be looking to see some good moves from Wayne Rooney."
2014 Fifa World Cup Brazil
*June 12 to July 13.
*32 teams competing.
*64 matches in 12 cities.
*US$35 ($40) million awarded to the winners.