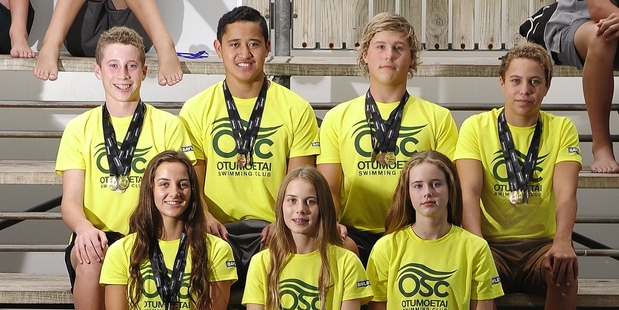 A total of 14 hours a week each in the pool has paid dividends for members of Otumoetai Swimming Club at the State 2014 New Zealand Division Two Swimming Championships in Hamilton.
Ahead of this weekend's Central North Island meet, 15 club swimmers had qualified for next month's national age group champs in Wellington, which brings the curtain down on the long course season.
Highlights from the championships were spread across the group.
George Culling (14) claimed gold in the 200m backstroke and silver in the 100m backstroke, while shaving 40s off his personal best to claim silver in the 1500m free. He also posted five national qualification times.
Connie-Pearl Anderson (13) shocked herself with gold in the 100m free from an outside lane by 0.1s, and won silver in the 200m IM, with Daniel Reyland (13) claiming gold in the 50m free in 28.19s.
Tem Strickland, Daniel Reyland, Taituha Woller and Culling formed the club's team for the 200m free and 200m individual medley relay, picking up gold and bronze.
Team manager Donna Tumai praised the team's work ethic and the time put in by head coach Stefan Swanepoel.
"Stefan's long hours at the poolside are obviously paying off with our swimmers doing so well," Tumai said.
"He has been great. Obviously the kids do all the hard work, but he is there mentoring them and getting them up to where they need to be. At the end of the day it's their determination and grit that gets them there."
Tumai said the medal haul was an improvement on the previous year, but some of that comes down to geography.
"Last year it was in Invercargill, which needless to say is a long way to go.
"We had a team of four go down and came back with medals, but we came back with a whole heap more this year.
"The kids just blow you away. They make their final in an outside lane as one of the slowest qualifiers, then they win a medal. It's fantastic."