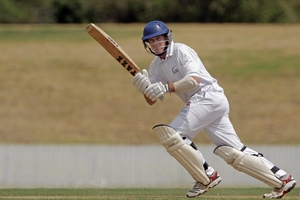 Former New Zealand under-19 representative Joe Carter has been named in the Northern Knights squad to take on the Auckland Aces at Seddon Park today.
The 20-year-old has been a prolific batsman for both Otumoetai Cadets and Bay of Plenty in recent times, including a sparkling 187 against Hamilton in the Bay's successful Hawke Cup challenge last season.
He earned his place in the team with a well-made century against the Auckland Aces at Bay Oval on Sunday, but will not be short of long familiar faces if he makes his first-class debut today.
Fellow Bay of Plenty players Daniel Flynn, Jono Boult and Graeme Aldridge are also in the 12, while the match also marks former Bay of Plenty stalwart James Pamment's first game in charge in the Plunket Shield.
"It's exciting times, a lot of new things happening around Northern Districts cricket. It'll be great to finally get to the first game having gone through a long pre-season," said Pamment yesterday afternoon.
The starting side was to be confirmed this morning, but Pamment hinted Carter was likely to make his first-class debut against the same opposition he torched for a ton in a warm-up game at Bay Oval on Sunday.
"He's a fair chance of playing given he is a top order batsmen, so I'd imagine he'll be in that team.
"The Auckland game certainly confirmed what we were already thinking - he's been on the radar of being a first- class cricketer for perhaps 12 months now and he took a great opportunity on Sunday.
"There were probably two or three guys in our thoughts for taking that top order batting position and Joe pushed himself forward in fine style."
Pamment said geography and the fact there are very few secrets in New Zealand cricket meant there was no harm in a side playing their first round opponent in their final warm-up game.
Every opportunity to play quality opposition on grass wickets was paramount, he said.
The two other new caps in the team are Jono Hickey and Scott Kuggeleijn, while the match will also be notable for the continued return of Daniel Vettori alongside impressive young leg spinner Ish Sodhi.
Pamment said Vettori has no limits placed on his workload as he comes back from a long-term injury.
"He's had little challenges all the way through and he's met them nicely."
Kane Williamson, Corey Anderson, Anton Devcich and Tim Southee are with the Black Caps in Bangladesh, Trent Boult is being rested and Anurag Verma was unavailable due to injury.
Northern Knights team to play Auckland Aces at Seddon Park today: Daniel Flynn (c) (Bay of Plenty), Graeme Aldridge (Bay of Plenty), James Baker (Hamilton), Jono Boult (Bay of Plenty), Joe Carter (Bay of Plenty), Jono Hickey (Counties Manukau), Scott Kuggeleijn (Hamilton), Daryl Mitchell (Hamilton), Ish Sodhi (Counties Manukau), Daniel Vettori (Hamilton), BJ Watling (Hamilton), Brad Wilson (Northland).