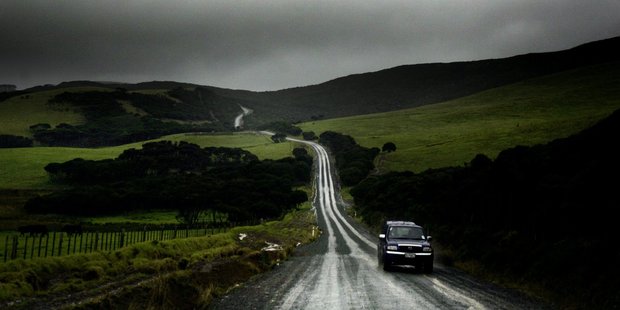 The Government plans to spend 4.3 per cent more on rural roading -- but will it be enough to compensate for six years of neglect? asks Chris Lewis
The state of our rural roads is in dire need of attention and could very well be a political football leading into the elections. National and Labour agree that there needs to be better investment in rural roading but it's a question of how and where that funding would be dished out.
Investment in the past has been on the Seven Roads of National Significance, six of those being in the North Island. While these roads are indeed significant to New Zealand's infrastructure and economy, focusing solely on these has left rural communities driving on dangerous and inadequate roads. Local councils have used the Band-Aid approach on rural roads to date, if they've chosen to deal with their pitfalls at all. As a rate payer, I am very concerned that people living on rural roads are not being considered at all when it comes to divvying out the coffers.
The Government appears to have frozen funding on rural roads, but Transport Minister Gerry Brownlee says the plan is to invest 4.3 per cent more in rural roading, which equates to $176.3 million of the $4.1 billion roading budget. Is that enough? These roads have been neglected for six years.
National roading is under consultation and the New Zealand Transport Agency (NZTA) is reviewing the Funding Assistance Rate (FAR). I hope both will take into account the social and economic importance of these roads to New Zealand and its people.
Approximately $34 billion of export revenue is transported on these outdated roads, not to mention the risky business of these modern trucks navigating narrow pot-holed roads designed for small cars.
There are also the school buses, the families and the rural bankers etc travelling down these roads, reporting near misses, children being thrown from their bus seats, and drivers bellying their vehicles. This is not asking for a hand-out; this is asking for an even distribution of central government's road use derived revenue so we can all have safe journeys.
We can all agree there are far too many deaths happening on our roads. The Labour party stated that 20 per cent of road deaths involved trucks, and while I'm unsure if they are happening on the narrow, gravelled, pot-holed death traps, it wouldn't surprise me.
The Waikato Regional Council is reviewing an Emergency Roadwork Fund in its Draft Annual Plan, with a $270,000 fund; I implore them to put it to good use and get the road workers out and give some much needed attention to our rural roads.
The decisions on how national road funding is dished out through NZTA is going to have long-term affects on our rural communities.
What we are seeing now are the long-term results of neglect and they are proving extremely hazardous to rural New Zealand. Let's do the sensible thing and put our rural roads back on their feet, so we can get home safely, enjoy those Sunday drives and deliver the goods.