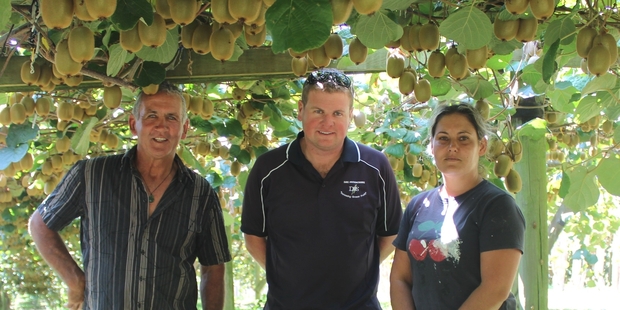 Kiwifruit orchards are popular investments for out-of-town owners and provide opportunities for management companies to make their mark.
Zespri figures show 1781 of its 3276 supplying orchards have some type of management function.
Senior communications adviser Rachel Lynch said it might vary from 100 per cent management to only one activity, such as pruning managed by another party. More than 30 per cent, or 1075, of its supplying orchards were leased.
Owen St George, who lives in Ohope, said his family trust kiwfruit orchard was managed by Direct Management Services (DMS) and his daughter, Jackie, also worked on it. The arrangement enabled him to spend two days on the orchard and the rest enjoying life.
Last season, it had a bumper green Hayward harvest. It produced an average of 15,109 trays per hectare with size 33 fruit, with an orchard gate return in excess of $90,000 compared to the industry average of $43,000.
Previously, it consistently produced about 11,000 to 12,000 trays a hectare.
Gaining a result like that came down to teamwork and trust, he says.
"Working with a great team and having good relationships with them is important. You've got to trust your manager and your labour contractor and I'm fortunate to have great relationships with both."
DMS orchard manager Matt Greenbank said laying down good foundations was critical to a good crop.
"You need to get the basics right. If you do the two biggest things well - your winter pruning and spring pollination - that sets up the basis for a good crop and you can work on the rest from there. "Timing and quality control are crucial."
The St George orchard has 2.7ha of green and 1.3ha of newly converted Gold 3. In 2013, Owen and Jackie removed and burned all the previous 16A gold variety because of Psa.
The entire process had been a learning experience, with Owen and Jackie tackling the conversion workload.
"It's been a huge undertaking and we've made a few little mistakes, but we've learnt from them. The whole industry's still learning about G3," said Owen.
He had a license for one more hectare of G3, but has decided not to cut out and convert his productive green vines.
"The returns on green are still an exciting prospect; growers are still making profit.
"It's not a good idea to be too greedy. It's about getting into a comfortable, sustainable system, keeping it simple and doing the same things now as you want to be doing in 10 years' time."