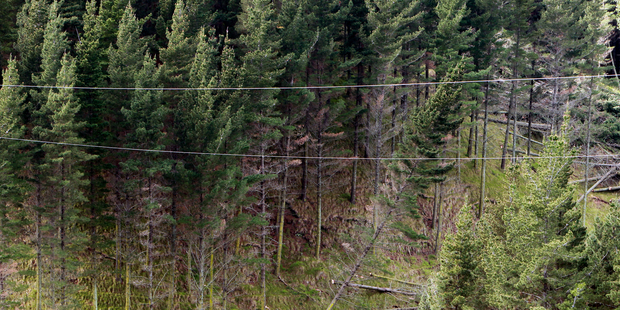 The Farm Forestry Association has questioned why more land is not being used for tree planting when returns for timber stack up.
Middle districts chairman Denis Hocking says forestry blocks are best suited for low productivity pastoral land and could make more money than sheep or beef.
"On the present market, forest owners are getting very good returns from forestry blocks, comfortably ahead of the target $1000 per hectare a year net returns, on more accessible sites.
It is well ahead of gross margins of around $500 per hectare a year achievable with sheep or beef on the poorer, five to six stock units per hectare class of land," he says.
Dependence on the export log trade to China is unsatisfactory but he says there are advantages in forestry.
"Harvesting can be a very flexible feast.
"The trees can stand and wait for the market, or, as is happening at the moment, harvesting can be advanced to meet strong demand."
Benefits to the environment and animal welfare are also significant, he says. Erosion is a big problem in the Bay of Plenty and stock shelter belts have become an obsolete concept.
Summerhill Farm forest manager Gabrielle Walton says about 10 per cent of the family farm in Papamoa Hills is planted in trees.
They are harvesting and have achieved higher returns off poorer country than would have been gained off sheep and beef, she says.
"There are a lot of opportunities to plant more trees for a variety of reasons and timber is definitely the most financial one. But they provide shade and shelter for stock, erosion control and riparian management."
There is a lack of planting going on in the region, she says. "Our tree planting started because it is the poorer country or it is prone to erosion with very difficult areas to farm with sheep and beef. So we've slowly put a lot of that into a mixture of species.
"Pines are our cash crop but we're diversifying into alternatives because we think it's good to have your eggs in more than one basket."
Cypress, Tasmanian blackwood and eucalyptus are among the species grown.
Being close to the port of Tauranga is an advantage, she says. "We have got the best timber export port in the country so it's crazy not to be using that."