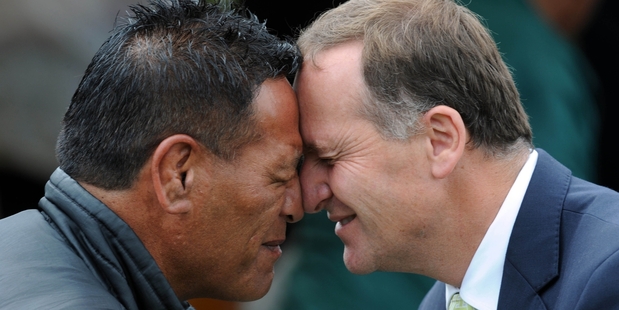 There's something special about a hongi that takes the hand shake by the nose and turns it into a much more intimate form of greeting.
More and more the hongi is becoming a recognised greeting and more and more my Caucasian cousins are coming to terms with a traditional form of entering another person's air space and sharing it with a breath of life.
For many the hongi is preceded with a deep inhalation and a handshake followed by a few words in Maori such as "Kia ora", "Tena koe" or in most of my mates' case, "Chur my Bro".
Others see it as a third eye to third eye experience much like the followers of the Buddhist faith.
It can be a nervous nose to nose for some who are not sure if there is going to be a little bit of lip to lip on the way in, especially by those with homophobic "I only kiss sheilas" genetic gearing. For others it is as close as they will ever get to kissing pretty women - or pretty men, if that is your nose of choice.
There are many interesting feelings and fragrances that the coming together of noses carries with it and a breath of life experience is definitely different when it comes to meeting someone for the first time.
This last week I shared a breath of life in the form of a hongi with firstly David Cunliffe on the Monday here in Tauranga, John Key and Hekia Parata on the Tuesday at Turangawaewae and the about-to-be-leader of the Maori Party Te Ururoa Flavell on the Wednesday.
So how was it rubbing noses and not shoulders with the leaders of our country?
Thankfully there was no dirty nosed politics involved.
Cunliffe was cool and warm at the same time, and very confident with his te reo Maori.
I wondered why they took so long to put him at the helm of what will be a winning party in two or three elections time.
Me being me, I couldn't help myself when meeting Prime Minister Key with a hongi, after a very moving haka tautoko for King Tuheitia.
"This was the real oil and I was having a whale of a time!" to which he gave a half pai grin garnished with a confused stare of "did I just get hongi'd by a bro or a foe?"
I am sure Captain Key ora has had his fair share of hongi in his time as leader and unlike others of his elk there was no head butting as he came in for a nose to nose landing that any dream liner pilot would have been proud of.
Minister Parata was a soft almost sensual hongi as is to be expected from a wahine toa of her stature.
The way she carries and conducts herself as a woman of mana for me has nothing to do with what political korowai she wears, but all about having a Maori Minister of Education who knows the needs and aspirations of Maori.
I for one, not being a "hori tory" but a party-hearty will be happier than an All Black coach should she be returned to the same portfolio.
Then there was the nose of the new leader of the Maori Party, Te Ururoa Flavell, who lives and breathes life for his people.
There is no question that Hone and Te Ururoa have locked horns and locked each other out of ever joining forces for a common cause of helping lift their people out of struggle-street, but deep down they carry the same kaupapa. The only difference is the Maori Party are inside the tent.
Or as a Once Were Warriors author and once critic of the Maori Party, Alan Duff said this week:
"If Maori want their voices genuinely heard, they should vote for the Maori Party. Not lone Maori voices representing their party. Nor a pit bull, a german shepherd and a spaniel hunting as a disparate pack.
"Maori candidates for the other main parties are fated to have a diluted effect, if any, for the cause of Maori advancement."
To share the breath of life with our leaders put politics in perspective for me. There was nothing dirty about it at all.
It was the acknowledgment of one human being to another, of each other's existence and their right to share this place we call home.
Tihei mauriora.
Tommy Kapai is a Tauranga author and writer. broblack@xtra.co.nz