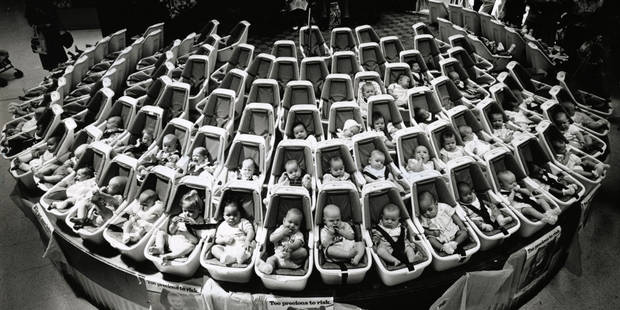 Well, we are only one month into election year 2014 and already the politicians are trying to sell off our futures.
In their desperate bids to hold on to, or gain, power they have thrown economic good sense to the winds and are biffing bundles of cash around trying to woo voters.
And it will probably succeed as too many Kiwis love nothing more than being given something for nothing - it goes with the handout mentality that has turned this country from a thriving little nation into a resting pond for the "What's In It For Me" brigade.
National and Labour's vote grabs show little regard for the consequences down the track.
It began with the Nats announcing they were going to spend $359 million on better salaries for elite education experts - super teachers - who can help raise schools' efforts with underachieving children.
It's a great election ploy - as it will help contain the usually pro-left education system voters - but other than adding a new level of school management will it solve the problem of giving kids from the lower levels of society a real chance in life?
Not in my opinion, because the problems most of those kids have are to do with their uneducated families and living in unending poverty. Both of those give them little hope in life.
Far better to spend $359 million on providing food at schools, taking remedial action against hopeless parents and reducing class sizes so teachers can spend more time with struggling kids.
For taxpayers, however, worse was to come when David Cunliffe announced that should Labour be elected then families with newborn babes will get a benefit of up to $60 a week.
How utterly irresponsible and short-sighted is that idea?
Fair go, have a think about it.
Too many people in this country already make careers out of having babies, why on earth would you entice them to have more?
And you guarantee it will, in the main, be those least able to support kids who start popping out the next generation of benefit receivers because they won't be thinking past "$60 a week for a year".
A baby is not for Christmas. You have it for life and the little cuties are a very expensive commodity.
Labour's policy will almost certainly start a baby boom that cannot be afforded by this country.
It will produce less work and what happens after this $60 a week ends after a year?
Will the new parents have sorted their finances out enough to cope with such a drop in weekly take-home earnings?
If not, where will they head when they are unable to manage - to the public teat, sucking down even more overstretched taxpayer dollars.
Will there be enough doctors to cope with the baby boom and its ensuing pressure on medical services?
What about schools? Will new ones need to be built, or will class sizes just continue to skyrocket?
Most importantly - where will the jobs be for these little ones as they become adults, or houses?
The way I see it that $60 a week bribe is really only setting up the next generations of Kiwis for either new depths of poverty, or to flee for Australia.
And let's leave alone for the moment the unaffordability of Labour's 26 weeks of maternity leave, which has been backed by the Nats promising more time off for new parents as well.
Just how is that going to be paid for and what will it do to productivity?
The terrifying thing is that we still have months and months of shameful bribes to come.
Key and Cunliffe - your blatant attempts at bribery are a disgrace.
So, the Prime Minister wants to have a referendum on changing the New Zealand flag does he?
Ditch more than 100 years of this nation's history and get in a new symbol that he thinks signifies New Zealand in the 21st Century.
I started to laugh at the irony. Here is a leader who didn't care about public opinion on asset sales, or deep-sea oil drilling but, all of a sudden, starts caring what people think about the flag.
Initially my reaction was well, is he trying to hide something by playing the "change the flag to obscure other things from public gaze" card?
And, to me, people who want to change a nation's flag suffer from cultural cringe.
"It makes us still look like a colony of Britain," they warble.
Crikey, I thought that ridiculous view died out years back.
"It's too much like Australia's," others parrot.
Without putting too fine a point on it, the New Zealand flag is nothing like Australia's.
Kiwis have four red stars with white borders and the Union Flag in the first quadrant, while the Australian flag also has the Union Flag, but six white stars (including a pretty damn massive one).
What sort of duffers mistake those?
They're either colour blind, or can't count ...
And who cares? Kiwis know their flag, Aussies know theirs.
Now here I want to again point out that the British flag is not the Union Jack. It is the Union Flag. Unambiguous. Official. The end.
Anyway, what does the PM suggest for a new flag? The Silver Fern.
God save me from crass people!
Great, a black flag - that of death - with a symbol most overseas take instantly to be a white feather.
What an inspiring symbol for a country ...
Richard Moore is an award-winning Western Bay journalist and photographer.
richard@richardmoore.com