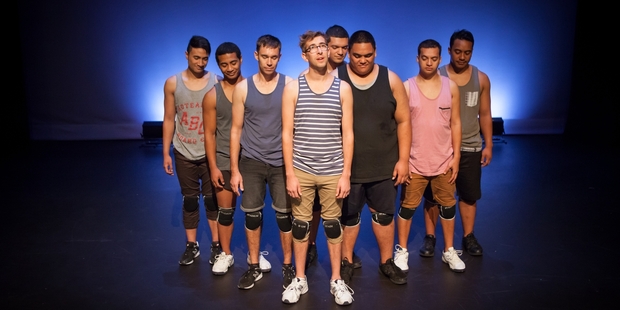 The Tauranga Arts Festival is the last place I thought I would find an answer to a problem we have been talking a lot about lately in my role as shepherd of a growing flock at Te Tuinga Social Services.
The subject of youth suicide is almost too heavy to talk about openly and after a week of it being on our agenda I needed a change of latitude that would hopefully give me a change in attitude and some answers.
So I rocked up on an impulse from the review I had read, without a ticket, and took a chance with a play called The Brave, on at Baycourt as part of the festival.
The well-worded review proclaimed:
"This is theatre stripped to its bare essentials so the human stories on stage are brought to the fore simply and effectively by those who have lived and are now telling the stories. The Brave lays it all on the line, as a starting point to engage young men."
Yes that sounds artistically and culturally cool - so I walked right in and sat right on down.
When I listened to the message of eight young men telling their story the bells of belief for the lost generation, who were taking their lives, started to ring in my head.
This wasn't just theatre, it was edutainment and it carried a message of hope.
Listening to life through the actors' eyes was cathartic for me, as it could be for so many others.
I wanted to fill the empty seats in my row with the teenagers of Tauranga who are lost, lonely and broken-hearted. How can we make this happen in the future?
Each actor exposed their feelings in a way that connected the stage to every seat in the house and once that connection was made the therapy of confession floated across the audience like a karanga - a calling.
From children to their parents and back again, telling them they were loved.
There is a long, dark cloud of teenage discontent hovering over Aotearoa and it is manifesting itself in youth suicide - in staggering numbers.
Recently, five tamariki took their lives up north in one small community and it's happening up and down the country.
We see the signs all the time in our line of work and until we are brave enough to have a look at where that cloud is coming from, we are in for what some are calling a "Youth Quake" of out-of-control teenagers.
The disturbing statistic is they are teenage girls and they are getting younger by the year.
Outside schools, in buses and standing in groups on corners there are time-bombs of angry, intoxicated girls wanting to 'bring it on' for no other reason than they are lost and confused.
Sadly, there is an option of suicide that more are taking as a short-term solution in their eyes.
Do they understand suicide is forever - not just now?
It's not acceptable to place the 'youth quake' problem on the doorsteps of our doctors, councillors, police or other social services.
Nor should it be our schools left waiting as the ambulance at the bottom of the cliff.
So what's the answer if there is one? When can we openly discuss why so many of our tamariki are taking their own lives?
Perhaps now is the time our community leaders and their councils should step in to help settle the youth quake, before more young lives are lost.
Perhaps the answer or part of it is in the arts and they have a far bigger part to play - off the stage and on it?
Teenagers are at a crossroad in their lives, much like we are as a society anywhere in Aotearoa. When past, present and future collide there are casualties.
Theatre - like no other therapy - is symbiotically beneficial to both actor and audience. It opens up the opportunity for the lost, the lonely and the broken-hearted to listen and hopefully learn as I did at Baycourt.
We need to be brave, our communities need to be braver, and we need to teach our teenagers how to carry a brave heart with them at all times, if they are to survive the temptation of suicide.
broblack@xtra.co.nz