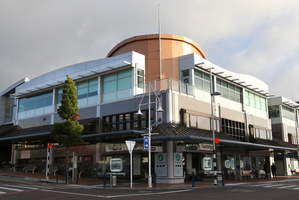 The people have spoken and the posters have been put away for another three years.
Promises have been made, some will be kept and others impossible to deliver on. But life will go on, leaving those who have given their all, for what they believed in, scratching their heads and wondering what went wrong? "Where's the loyalty to your chosen leaders?" they may well ask.
Maybe these elections have been like our boardwalk.
The political posturing had little to do with the issue, in this case the boardwalk, and now that the dust has settled and the grass has grown back we can get back to what we do best to councillors and boardwalks - walk all over them when we don't get what we want.
Who would want to be a councillor?
It takes a special breed who can navigate their way through the myriad moaners and groaners who make up the "Joy Police" of Tauranga.
I was once told that the cornerstone of a cool councillor is one who treats their colleagues with the same respect as they do their own family.
So on that criterion alone we have some good stock to graft on to the crop of returning councillors in all three councils.
Others would say we could well be entering into the most positive forward-thinking council in decades and the days of the pale male stale and frail are heading out to pasture to talk about "the good old days when what we will be remembered for is - I can't remember".
Hairy Maclary possibly?
For Maoridom here in Tauranga Moana and the wider Western Bay the message is clear by the low turnout and the embarrassing fact that more Maori voted for Marae Kai Masters and Homai te Pakipaki - two Maori television celebrity shows - than voted for the leaders who will help determine the future of their tamariki (children).
I guess one of the reasons for this is many Maori still see every election as a sort of advanced sale of stolen goods and can't see a better future for their whanau and families.
A wise Maori politician once said if what you stand for is based on tikanga and connects with whakapapa then your long-term harvest will be ensured.
This can be applied to everything our elected leaders look after, especially the harvesting of our resources from the land and the sea.
Right across the rohe our resources have to be looked after at all costs.
From fisheries where fish have been running by the moon, the wind and the tides long before leaders were elected to look after them - all the way across to the harvesting off the whenua where placing tikanga before profit will guarantee longevity for tomorrow's generations. Now that's a big ask for anyone to take on but change must come if we are to leave a legacy for our kids. For many Maori who miss out, their better futures can only come if we share our resources according to tikanga (ethics) and not just trusts based on bottom-line profit.
However, change only comes when we change our leadership and the future face of Maori politics will be best represented by newly elected Bay of Plenty regional councillors such as Awanui Black, who knows too well that you have to take your people with you, keep them informed and form key relationships that will become building blocks for future pathways.
Not just for Maori but the wider community.
What makes this particular leadership change within Maori interesting is the Mauao vote was the kingmaker in the choice of chairman at the last election, so the lobbying for leadership of the new regional council will have already started.
An interesting statistic to come out of the Tauranga City Council elections is the photo finish between John Robson (whom I picked in this column at the last election to come through) and Rick Curach.
Just two votes separated them and if their almost identical popularity by the people is to be replicated in their workload over the next three years then one of them will have to lift his game dramatically.
James Freeman Clarke once said, "A politician thinks of the next election and a statesman of the next generation." Let's hope the newly elected members to our three councils will show statesman-like mana and bring hope for tomorrow's generations, by ensuring all sectors of our communities are governed and guarded by tikanga.
broblack@xtra.co.nz