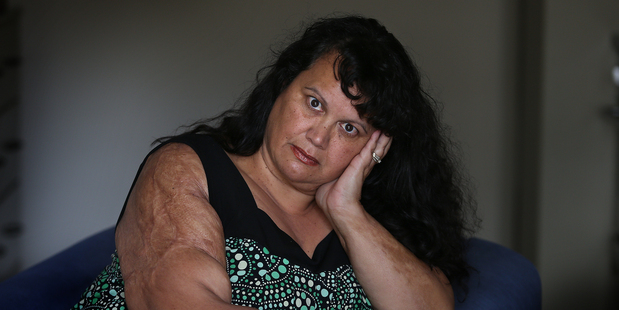 A Mount Maunganui burns victim is horrified a new challenge sweeping through social media is gaining popularity with young people setting themselves alight for internet glory.
Donna Gregory-Marshall said the Fire Challenge was ridiculous, dangerous and insulting. "I find it really upsetting because I didn't choose to have my scars. It was an accident. Whereas these people introducing this idea ... these kids are possibly going to give themselves scars," she said.
"I don't even know why anyone would want to do that. Go eat a katipo spider or something. You might as well jump out of a plane without a parachute."
The challenge, popular in America, involves people covering their body with flammable substances and setting themselves on fire while another person videos and shares the act on social media sites.
Two people have reportedly died from the act, including a 15-year-old American boy.
This week, the Ministry of Education plus Tauranga school and fire authorities warned against the craze being taken up here.
"You might as well be signing your own death warrant," Mrs Gregory-Marshall said.
When she was just 11 months old, Mrs Gregory-Marshall unwittingly pulled a jug of boiling water over her.
She has lived with scars from third-degree burns since. They stretch across her back, neck and arms.
Mrs Gregory-Marshall, 51, said she was "horrified" when she first heard of the challenge.
"I've always worn sleeves. I've always been very conscious of my scars."
The scars affected her life dramatically, she was bullied at school and refused to pose for photos or go to pool parties because of them.
She came to a turning point two years ago when she met a fellow burns victim who shared the same experience.
"It took me 49 years to let it go ... I've missed out on so much because I've had hang-ups."
If you encounter someone on fire
*Lower the person to ground
*Extinguish with water or smother flames with clothing
*Immediately apply cool water for up to 20 minutes.
*If the patient is badly injured call 111 for an ambulance
*See a doctor if the burn causes ongoing significant pain or involves the face, hands, joints or genitals.
- NZ Fire Service
What do you think?
Email editor@bayofplentytimes.co.nz, go to our facebook page, text 021 241 4568 BOP (message) or write to Private Bag 12002.
Response may be published.