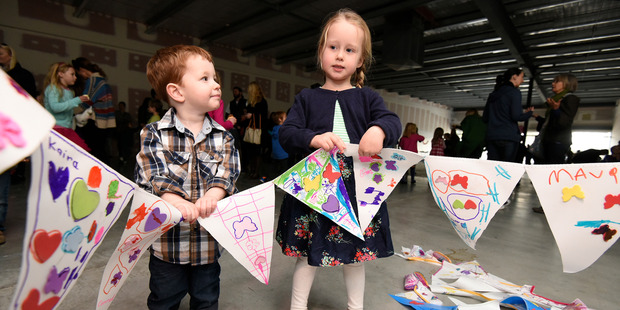 Peace and community spirit were the themes of the day at an event run by a Tauranga Montessori group.
Games, cupcakes and performances were held in an empty shop at Bethlehem Town Centre to celebrate Maria Montessori's 144th birthday.
The event was run by the Tauranga Montessori Education Trust, the body that governs Montessori@Bellevue at Bellevue School, to remember the woman who started the Montessori movement.
About 100 children and their parents took part in the activities, which included building baking soda rockets, playing with homemade play dough, seed planting, and arts and crafts.
Laura Rowe, event organiser and administrator at Tauranga Montessori Education Trust, said the children had also been making 1000 peace cranes, which they would send to Hiroshima.
To celebrate Maria Montessori's birthday, all the children were given a cupcake bought from the SPCA's Cupcake Day, held last weekend.
"Instead of a birthday cake, we thought we would buy the cupcakes from the SPCA to give back to the community," Miss Rowe said.
What is Montessori?
• The Montessori movement takes its name from its founder, Dr Maria Montessori, who began the first 'casa dei bambini' or children's home in Rome in 1907.
• Dr Montessori believed that by placing children in a stimulating, specially prepared environment, their natural curiosity would help them become self-motivated learners.
• Today Montessori is the single largest educational philosophy in the world.