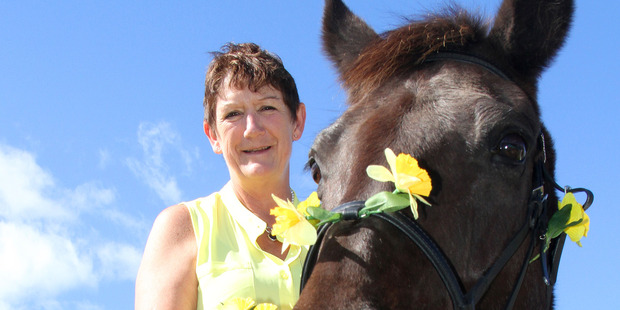 The last time Jan Ferguson rode her horse Shadow around Tauranga's CBD he was adorned in pink.
Tomorrow the pink will be replaced with yellow.
Jan and Shadow will be riding around Tauranga collecting money for the Cancer Society's Daffodil Day appeal.
Shadow is 18 and this will be his and Jan's 10th Daffodil Day, but their first in Tauranga as Jan only moved over the Kaimais last year.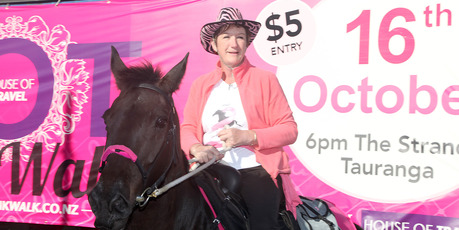 In previous years she and Shadow have been a familiar sight in Hamilton on both Daffodil Day and collecting for Breast Cancer awareness in October. He has even been known to go inside banks and pubs in Hamilton.
But Hamilton's loss is Tauranga's gain.
"People can have their photo taken with him, or on him - but they won't be able to ride him," she says.
"He is very placid - nothing fazes him."
Jan is also open to the idea of calling in on specific businesses so staff can have photos taken (for a donation). Call her on 021 285 6609 and she will do her best to accommodate such requests.
The pair will be in Tauranga from around 8am tomorrow and may also head to one of the city's industrial areas if time allows.
"He's done quite a lot of fundraising over the years."
The Waikato/Bay of Plenty Cancer Society is asking the Tauranga community to again dig deep and support the Cancer Society's largest annual fundraising and awareness appeal.
Daffodil Day has become one of New Zealand's most recognisable campaigns and is the main funding source for the Cancer Society. The past few weeks have been awash with Daffodil Day activity including the pre-sale of over 3000 bunches of daffodils to businesses in the Waikato, Bay of Plenty and Lakes areas as well as schools, businesses and clubs registering to hold Daffodil Day fundraising events for the Cancer Society.
"Last year Daffodil Day raised over $650,000 in the Waikato and Bay of Plenty Division and we are hoping that people will continue to support our appeal," says Waikato Bay of Plenty Cancer Society spokesperson, Rachael Mounsey. "The money raised will enable us to continue providing vital services within the region."
To donate to Daffodil Day look out for the volunteer street collectors who will be in and around town tomorrow and Saturday.
Alternatively people can make an instant $20 donation by phoning 0900 311 11, can text 'daffodil' to 305 to make an instant $3 donation or make a donation via www.daffodilday.org.nz.