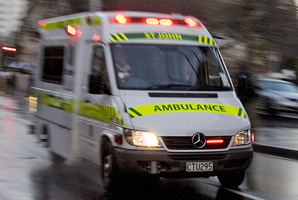 A man died days after he was seriously injured in a workplace accident at the Port of Tauranga.
Worksafe New Zealand, formerly the Department of Labour, is investigating an accident involving an ISO Limited staff member at the port on August 16.
St John Ambulance territory manager Ross Clarke said ambulances from Mount Maunganui and Tauranga were dispatched to an accident at the Port of Tauranga about 2.30am that day.
The man was taken to Tauranga Hospital in a serious condition, Mr Clarke said.
The Bay of Plenty Times believes the man was aged 59 and was airlifted from Tauranga Hospital to Waikato Hospital with head injuries under the watch of a team from the intensive care unit later the same day.
It was understood the man was a truck driver and had slipped on some pulp.
Port of Tauranga corporate services manager Sara Lunam confirmed the man had since died. She did not know the details of the accident. The man was not employed by the Port of Tauranga.
Maritime Union of New Zealand Mount Maunganui - Tauranga branch secretary Selwyn Russell said he did not know details of the accident,
"Because it was an accident and they zipped him away and then the death has happened - no one seems to know [anything]. It's all very hush hush," he said. "It's another tragic accident in the Port of Tauranga. It is tragically sad."
Mr Russell said he was dumbfounded to hear about the death and believed it was important for people to be made aware of the incident.
"If there is a highlighted risk everyone should be told," he said. "We all do the same job."
Detective Senior Sergeant Greg Turner said the Tauranga police had no record of any injury or death at the port around that time.
Rail and Maritime Transport Union Bay of Plenty port branch secretary Roi Rangi said he had not heard about the accident and subsequent death.
ISO executives did not return Bay of Plenty Times calls in time for this edition.
ISO is one of New Zealand's largest waterfront cargo logistics companies and offered IT solutions, stevedoring, marshalling and warehousing, and transport and distribution.