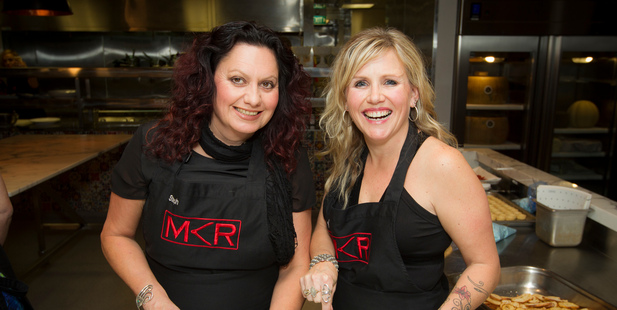 Two Tauranga women will soon hit television screens as Bogan Besties on the New Zealand series of popular show My Kitchen Rules.
The show is set to screen on TV One on Sunday, while the season finale of the Australian version of the show will air tonight.
June Lyall and Stephanie Usmar will be waving the flag for Tauranga and have been promoted on the show as the Bogan Besties.
Ms Lyall, a mechanic, said the pair originally met at the Papamoa Tavern.
"Steph worked there with my mum and sister. Steph was friends with my sister and we just ended up getting on so well and have been friends ever since," Ms Lyall said.
"We also ended up having baby girls at the same time so we were bound to be great besties," Ms Usmar said.
The duo said they entered the New Zealand show because they both loved to cook.
"I love to do exciting, new, interesting, fun, stupid, crazy things, so having a passion for food, and eating, I thought, 'yeah this is for me and my bestie'," Ms Lyall said.
She said the women were both "really bossy" in the kitchen, which could be good viewing for audiences.
"We both like to be in charge but we also like to have fun. We have a lot of laughs. We laugh loudly and don't tend to get upset."
They said they were excited to see themselves on TV.
"We're really looking forward to seeing the show and seeing people's reaction," Ms Usmar said.
Both women said they had been hooked on the Australian version of the show and had been "fans from the start".
"We love it. We find it so entertaining and good to watch. It's great to see what we're in for as well now that we're part of the New Zealand show."
The show will be hosted by chefs Ben Bayly and Gareth Stewart. The tasting panel will be comprised of Nadia Lim, Sean Connolly, Grace Ramirez and Robert Oliver.
Ms Lyall and Ms Usmar will battle it out in the instant restaurant round, where they will be featured on Wednesday, August 27.