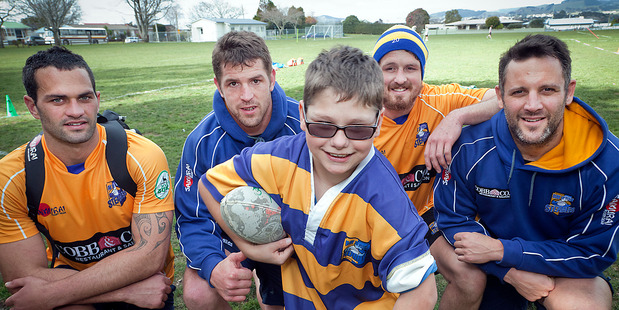 The Bay of Plenty Steamers launched an anti-bullying promotion into Western Bay schools at Tauranga Intermediate yesterday.
The players trained on the main field for 40 minutes before signing autographs and interacting with the school's pupils, who had dressed in blue and gold as part of a Steamers mufti day.
Later at a special assembly, the Steamers distributed copies of player profile cards, which include information about each of the 28 squad members and the key anti-bullying message.
Raewyn Mortensen, from Tauranga Moana Safe City, says this is the fifth year of working with the Steamers to help get the "Bully No More" campaign into the schools.
She says it is important to work closely with the players.
"They are mentors and role models coming into the school. They play a rough game, so that is a really important link for us, that they are saying to their young fans that actually bullying is not okay," Mortensen said.
"It just adds extra impetus and that extra level you wouldn't get on a campaign. Every year it is great and we give out so many tickets to the games as well."
Bay of Plenty Rugby commercial manager Matt Cairns says it's a new way to promote the message into schools.
"It is great to get the guys out in the schools so the kids can have a bit of fun with them," he said. "This is the largest visit this week but we are getting out to another 12 schools during the week, so it is a big engagement with our fans.
"These kids are what ITM Cup is all about. We are giving out passes to the Tasman game on Sunday, plus material going home with the tickets to the parents, so they can identify the signs if their child is being bullied, or perhaps is a bully."
Bay of Plenty Rugby host an open day for more than 200 primary school pupils at their headquarters at ASB Baypark today.
"They are doing a tour of the stadium, go behind the scenes, watch some video analysis, do some indoor training and then watch the Steamers when they do their serious training," Cairns said.
The promotional week for secondary schools will take place before the home game against Northland on September 25.