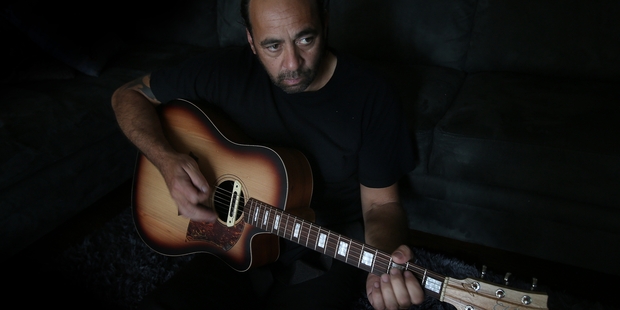 A lot of musos traded in their guitars for toolbelts when the recession hit in 2008.
It was the other way around for Grant Haua. The Welcome Bay roofer turned to music to help pay the bills when work slowed to a standstill.
The 44-year-old father of three needed to put food on the table, so he started working the local gig scene and, through mutual friends, met music heavyweight Michael Barker.
Michael and Grant are Swamp Thing - a "swampy blues funk rock".
Michael is best known for his drumming with the John Butler Trio and Split Enz. His international credits include television appearances on David Letterman's show, with Jay Leno, Later with Jools and Taratata.
Grant has a gravelly voice made for the blues - Michael wanted to work with Grant two seconds into hearing it.
Grant grew up in Welcome Bay and went to Otepou School, Tauranga Intermediate and Tauranga Boys' College.
He has been a "tradie" since he left school and owns Taylor Roofing on Birch Ave with his dad.
"When work kind of dropped off in Tauranga, I relied on music to pay the bills - which is quite funny, it's usually the other way around."
Swamp Thing have already released two albums. The pair appeared on New Zealand's Got Talent last year, which they have found helpful in their careers. They have recently released a live DVD, filmed at Okere Falls, and are working on an EP at the moment.
Their name comes from blues roots.
"We tell this story at concerts, that we met in the swamp and I was out getting watercress and he was picking puha," Grant jokes. "But swampy is the southern states like Louisiana and Mississippi and it does describe our music."
Grant has huge respect and admiration for Michael and both say credit must also go to their wives, who play a big role in the band's accomplishments.
See Swamp Thing perform two shows, August 23-24 at Brew Craft Beer Pub on The Strand.