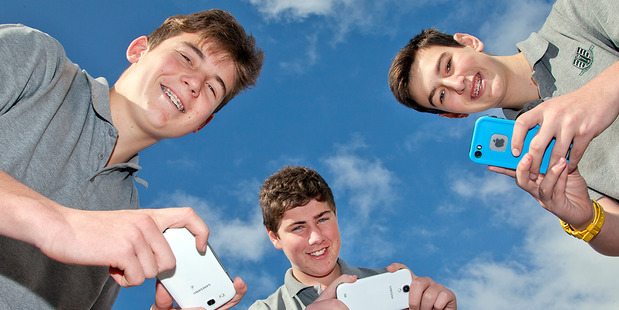 Saving people's lives is the aim of an invention by three Otumoetai College students.
Hayden Christie, 15, Frano Gabric, 14, and Lachlan Farron, 15, entered the Young Innovator Awards with their invention Swim Safe App, which uses a cellphone camera to identify rip currents.
The boys were the supreme winners of 100 entries and 55 finalists from local colleges at the Thursday night awards.
They also took out the junior section and were awarded an internship with the awards' major sponsors, Locus Research and Woods Creative.
Lachlan said the boys came up with the idea collaboratively and it could not have been pulled off if they worked individually. "I'm a life guard at Omanu Surf Club and we thought it would be relevant to come up with an idea that had a community aspect for the Bay of Plenty region.
"We thought something to do with the beach or ocean would be relevant.
"We sort of bounced ideas off each other until it came to us finally."
The boys did some research and found a similar app already available on the market but that was tailored more towards education rather than an on-the-spot tool for swimmers.
"The one that was already there detected movement in the waves, it wasn't really detecting rips, just the movement," Lachlan said.
"Ours uses the motion sensor in the camera to detect the signs of a rip -- calm patches with waves breaking either side, floating debris, criss-crossing waves, murky-coloured water."
Frano said on the awards night, he and the rest of the group had been confident of taking out the junior section but it was a "shock to the system" to win the internship and the supreme award.
"We were pretty stoked with ourselves when we got the junior award, then after that the rest kept rolling in."
Hayden said they were planning to do more research on how to create a cellphone app before their internship, which would be held over the summer holidays.
Science teacher Angela Crawford said she got her Year 10 students to enter the Young Innovator Awards as science went hand in hand with innovation.
"I think some of the most creative minds are scientists. Having come from a science industry before I started teaching, this is how science works in the real world."