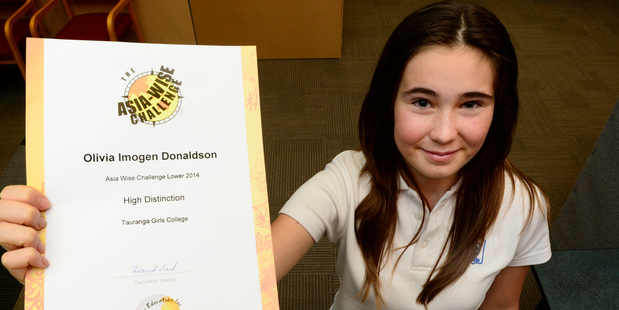 Lots of hard work and research earned Olivia Donaldson the highest marks in Australasia for the Asia Wise Challenge.
Olivia, 14, was in one of two Tauranga Girls' College social studies classes that entered the challenge last term.
The students had to complete a booklet of 50 questions about Asian politics and history using research to form conclusions.
When Olivia found out she got the top score she said she was happy because she had worked hard on the project.
"In Australia there were 10,000 people that entered and there was also a lot of people from New Zealand and Polynesia."
She had got "quite a few emails" and a certificate to mark her win.
"My school friends were really surprised. They didn't read my name out until last so I didn't think I had done that well."
Students were given two weeks to complete the booklet.
"There was a lot about Confucius, the trade routes of Asia, that sort of thing," she said.
"Some of the answers weren't on the web ... we had to go out of our way to research people."
Olivia learned a lot about Asia completing the booklet.
"I learned a lot about the history of Asia but the most relevant thing was the alliances between the countries and the political alliances and tensions.
"When I grow up I kind of want to be involved in ambassador work. I'm a UK and New Zealand citizen so would like to do something in politics and I think this has given me a lot more understanding because they're our main trading routes, especially China and Japan."