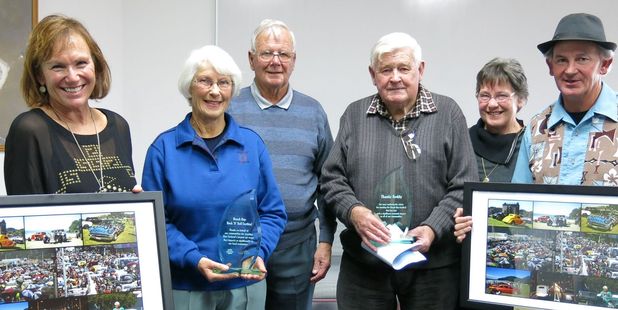 The Beach Hop team were recognised last week when the mayors of Hauraki and Thames-Coromandel districts - John Tregidga and Glenn Leach - presented them with trophies to mark the fact that the event generates at least $7 million for the local economy.
Sophie Dickinson from the TCDC Whangamata Area Office undertook a survey during this year's Beach Hop to determine the economic impact study of the event and results showed the impact on the local economy was considerable.
Whangamata area manager Garry Towler said the survey estimates were calculated using the 384 participants and spectators average event spend of $1,427.39 with the assumptions that people stayed for five days on average and had two people in the party or group.
At least 13 people also bought property in the area, purely as a result of attending the Beach Hop.
The greatest individual spends, in order from most to least, were on accommodation, food, fuel, shopping and alcohol.
"The figure of $7 million dollars injected into the local economy is a conservative figure based on only 10,000 people who stayed at least five nights, but doesn't include the detail from the other 101,000 because it was hard to tell exactly how long some stayed or how many were in their groups," Mr Towler said.
"But even assuming only one person was in each group, that $7 million would be much more in reality."
A more in-depth is planned for next year's Beach Hop.
Copies of the study's results are available from the Whangamata Area Office.