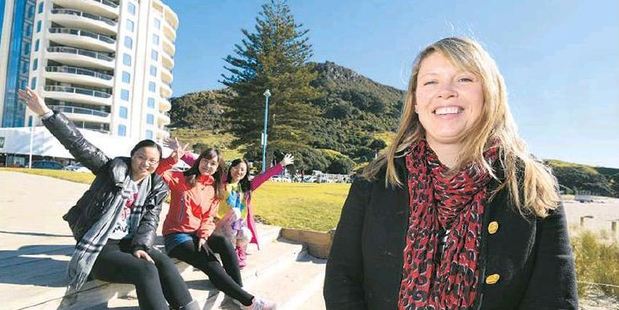 Agents from Chinese education agencies are touring Tauranga this week with the aim of increasing international student numbers in the city.
Four agents from Chinese education agencies will be hosted by Education Tauranga this week and members will show them around to profile the Bay as an international education destination.
Education Tauranga regional manager Anne Young said Education New Zealand funded the trip and all four agents were high-performing consultants from large education agencies.
"This is part of Education Tauranga wanting to increase the number of international students, particularly from China," she said.
"We went through a process with Education New Zealand to get funding for people from China to come and profile the city. We got some great people because they are excited to get into the schools."
Two of the agents were from agencies that already sent students to Tauranga and the others sent students to Auckland and Canterbury.
"We wanted to give them an opportunity to see Tauranga and meet some of the students who study here so they can sell our city back in China," Mrs Young said. "We went through a long process to get them here but we are really happy to have them and are looking forward to the week we will be spending with them."
After arriving yesterday, the agents went for a walk up Mauao. Today the visitors will meet Mayor Stuart Crosby and be greeted with a powhiri by Tauranga Intermediate.
The 32 schools involved with Education Tauranga will send members along to a special dinner tonight.
The rest of the week the agents will visit schools to ask international students about their experiences, as well as visit tourist attractions.
Echo Gao, of Austar Group in Guangzhou, had a list of schools she wanted to visit including Tauranga Boys' College, Tauranga Girls' College, Te Puke High School and Greenpark School. She was enthusiastic about visiting Tauranga.
"It's amazing, I love Tauranga very much. I can't stop singing and talking. It's so exciting seeing all the nature and meeting awesome people."
Li Dan, of EIC in Shenzen, said she wanted to speak with students in Tauranga about how they studied and their courses.
Sandra Heng, of EIC in Shanghai, said because her agency had sent students only to Canterbury and Auckland she wanted to find what made Tauranga different.