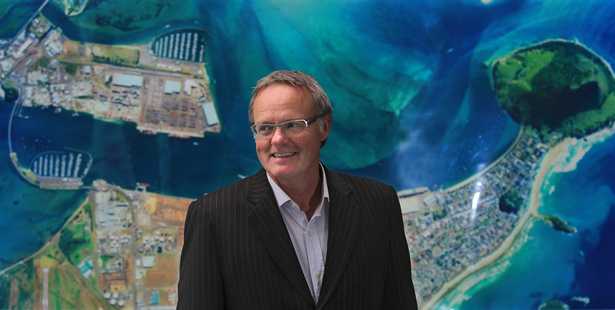 Mark Cairns says a gap year labouring in the wool stores in his home city of Napier was one of the best things he could have done for a career that has seen him rise to running the country's most successful port.
"Working for what I thought were poor managers as a labourer really taught me about management," said Mr Cairns, the chief executive of Port of Tauranga.
"It was the hardest work physically, and I decided I didn't want to do that for the rest of my life. But it gave me the ability to engage with staff from semi-skilled to professional."
And it ultimately set him on a path that saw him preferring to work with, and manage, people rather than focus on the civil engineering skills that provided the basis for his early career.
"I try to get out of the office as much as I can," he said.
Port of Tauranga chief financial officer Steve Gray said Mr Cairns knew the name of almost everybody at the port. "He takes the approach right through the organisation that whatever you do in the port you're just as important as he is."
Mr Cairns has a master of management, a postgraduate diploma in business and administration, and bachelors degrees in business studies and civil engineering, largely gained through extramural study at Massey University.
He spent 13 years with Works Civil Construction, a national civil engineering company, in a range of a range of managerial positions, ending up as manager of the Rotorua branch, then shifted back to Napier as regional manager for Transit New Zealand for four years.
"I learned pretty quickly I didn't want to be a design engineer," said Mr Cairns. "I wanted to work with people. "
He then took over as general manager for Fulton Hogan's mid North Island operations, where he cites now retired managing director David Faulkner as a mentor. He then took up his first port job in Tauranga as chief executive of Owens Cargo Co, which eventually became C3, one of the country's biggest cargo handlers. Port of Tauranga sold its 50 per cent holding in C3 in 2012. By then Mr Cairns was the port's chief executive, seven years after getting the top job when Jon Mayson retired.
Paul McGilvary, chief executive of Tatua Co-operative Dairy Co, said Mr Cairn's strongest characteristic was that he went out of his way to build strong relationships.
"That makes a huge difference to working with him and it's a strategic advantage for the port," he said. "And he's very open. He'll front up even when things are a bit difficult."
Mr Cairns said that as a listed company the port was much more multi-faceted than his previous roles, and brought with it the need to manage multiple stakeholders.
During his tenure, the port's share price had outperformed the NZX50 by about 240 per cent, said Chris Gaskin, a portfolio manager with Devon Fund Management, a longtime shareholder. He said that Mr Cairns had had the advantage of a strong management team, and supportive cornerstone majority shareholder in Quayside Holdings, the Bay of Plenty Regional Council Investment arm, as well as access to both capital and scrutiny from investors and fund managers.
"But he's done a fantastic job. He's one of New Zealand's best CEOs."
Mr Cairns credited long-serving former chief financial officer Colin Boocock, for his advice in helping him move into the new role and meet its challenges.
"You have to realise your success will be through your people, not the plant and equipment," he said. "I expect more from people and I've found that staff have always exceeded my expectations."
Devon's Chris Gaskin said Mr Cairns was focused on the company, and that while he had accepted a directorship in Meridian Energy, his director's fees were paid to Port of Tauranga. "What really strikes you about Mark is his passion for the business, and that permeates right through the organisation. His focus is 100 per cent on the Port of Tauranga, not on Mark Cairns."
Mark Cairns
Role: Chief executive, Port of Tauranga, since 2005
Age: 52
Born: Napier, New Zealand
First job: wool store labourer
Currently reading: Goldfinch by Donna Tartt