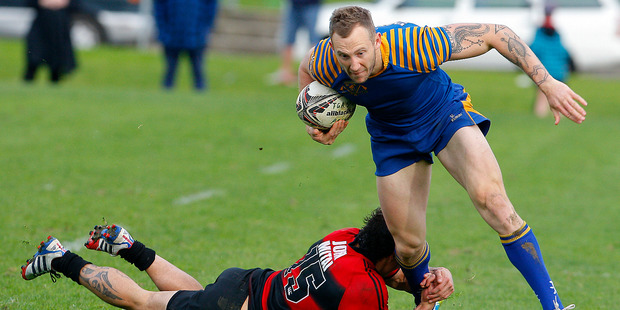 So much for home advantage.
The top two ranked sides in Saturday's Bayfair Baywide semifinals were both eliminated in front of their home supporters in an action-packed and controversial afternoon of rugby.
Te Puke Sports had led the competition all season but their hopes of adding another Baywide title were shattered early in the match against fourth qualifiers Mount Maunganui Sports.
Flanker Dan O'Rourke was sent off for punching in an incident. Once he received his marching orders, it tipped the scales firmly in favour of the highly efficient Mount Maunganui side.
The visitors jumped out to a 19-3 lead by halftime and never looked like losing.
They were fortunate, however, not to be reduced to 14 players themselves halfway through the opening spell, after a dangerous tackle prevented Te Puke fullback Elliot Hagen from scoring and injured him out of the game.
Across town at the Tauranga Domain, second-placed qualifiers and defending champions Tauranga Sports knew they were in for a tough battle against Rotorua's Whakarewarewa - and that is exactly what they got.
Whakarewarewa travelled over with a good number of noisy supporters and won an intensely absorbing clash by 18-17.
Tauranga Sports first-five Paul Morris had a chance to win it with a late sideline conversion but his kick slipped past the upright.
The Premier final between Mount Maunganui and Whakarewarewa is at 2.45pm this Saturday at the Tauranga Domain, preceded by the development final between Greerton Marist and Tauranga Sports at 1pm.