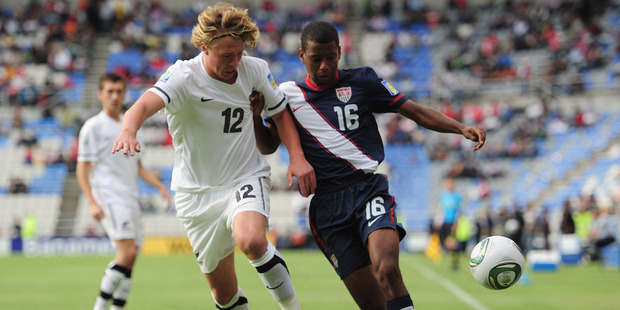 Jesse Edge got the news early on Tuesday morning that every young footballer dreams of.
Italian club Vicenza Calcio have signed the 19-year-old on a full professional contract, after Edge spent last year playing a starring role for the club's reserve team without earning a euro.
He becomes the first New Zealand-born player to be signed on a full professional contract in Italy.
It was a momentous occasion in his close-knit, football-mad household in Papamoa. Edge shared the news with mum Bridgit and granddad Eddie, then by phone with his uncle Declan, who have all been major influences on him since he was first able to kick a football.
Before coming home for a break, the New Zealand under-20 international played against the full-strength Juventus team that ran away with Italy's Serie A title last season.
The composed manner in which he defended against some of the best players in the world proved he deserved his place on such a grand stage.
"It was an end of season friendly at their training ground," Edge said. "It was a great experience playing against the best players in the world like [Giorgio] Chiellini and [Paul] Pogba. I was marking [Dani] Osvaldo and it was inspiring. Everything they did was so clean and so fast but I held my own. I don't think it is that far away for me to be getting into those sorts of teams.
"I had been playing well all year with the reserves and that is what has helped push me through. I just want to play for the best teams in Europe. I would love to go play for Real Madrid or in Germany somewhere."
Edge loves living in the ancient city of Vicenza, which is located just 40 minutes from Verona and an hour from Venice. Improving his Italian language skills and establishing himself in the Vicenza first-team, as they chase promotion to Serie B at the end of the season, are high on his agenda.
Dedicating his teenage years to football has paid off for Edge, who went to St Mary's, Tauranga Intermediate and Tauranga Boys' College, before finishing his schooling in Hamilton.
Next year he should line up for New Zealand at the Under-20 World Cup alongside childhood friends, All Whites Ryan Thomas and Tyler Boyd. It surely will not be long before all three are lining up for the All Whites, just as they planned as bright-eyed 12-year-olds in rep teams.