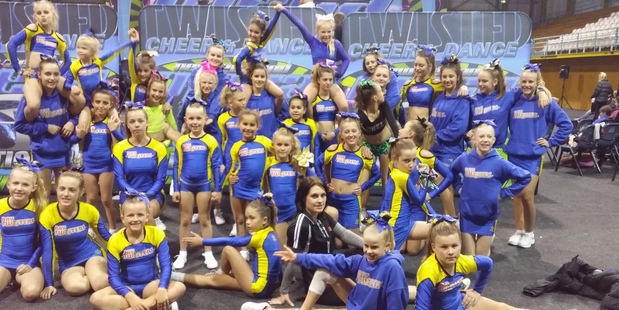 Two groups of young cheerleaders are headed to Las Vegas next year after qualifying at last weekend's competitions.
The squad competed for the first time at The Boom, run by Twisted, in Auckland after a practice run in front of more than 100 supporters the previous weekend.
Duo Annaleise Grigson and Amelia Cox and Tornados level 3 squad will head to the All Star Games in Las Vegas in March 2015.
The team would be "fundraising like crazy" however if they won the national competition in October they would receive funding, Manager Beccy Grigson said.
The Bay Twisters squad was formed in December and already about 50 girls between the age of 5 and 16 have joined up. Ms Grigson said she was impressed by how far the girls had come in such a short time.
Other results for the teams include:
- Bay twisters starlets, level 1 team, placed first
- Bay twisters tornados, level 3, placed first
- Youth duo Jaime and Isla placed first
- Senior stunt group Priya, Taryn, Frankie and Zoe placed first
- Mini solo (brooklyn aged 5) first place
- Junior stunt group Brooklyn, Anna, Amelia and Kayleigh placed second
- Junior duo Anna and Amelia placed second
- Youth soloist Anna placed third
- Junior soloist Amelia placed second
- Bay twisters received best tumbling sequence of the day