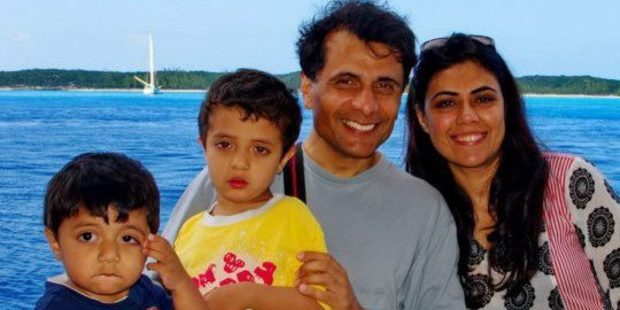 A PAKISTANI family has traded in a city known for weapons and ammunition factories in the hope of finding solace in the Bay of Plenty.
The family of four left Pakistan for greener pastures, first moving to the United States, then Ireland but they have finally settled in the Bay.
Mehreen Riaz, or Nina to her friends, her husband and two boys have been living in Tauranga for almost two months.
Pakistani expat Mrs Riaz grew up in a city in the northwest of Pakistan called Wah.
Wah is known for its ordnance factories for weapons and ammunition.
Mrs Riaz said it was a small city but the good thing about it was the warmth between the close-knit community there.
"We are still all well connected and like family, whole neighbourhoods just get together in the time of need."
She said Islamabad, Pakistan's capital city and where the family lived last, was a really beautiful city surrounded by mountains, the Margalla hills.
"There are seven or eight famous hiking tracks on those hills. Mostly retirees go but a few health-conscious people go there regularly for hiking."
She said many people were astonished to know there were big green leafy parks in Islamabad, "which are splendidly crowded on weekends, otherwise there are 22 other parks in each and every residential block there."
However, the growing city was sometimes dangerous and had been a concern for the young family.
Mrs Riaz could never let her children go outside without worrying something might happen to them.
"Anyone could come and kidnap them, and people think if they are driving in the streets they do not have to slow down their speed if children are playing. Everybody says it's the kids' responsibility to get out of the way."
Because of this, many children were growing up there without the freedom their parents had generations before, she said.
"Children should know how the grass or the sand feels between their fingers and toes.
"When we were growing up we were more free, we were playing outside. "Now the children there don't know the difference between the soil and the sand."
She said a cousin's child reached the age of 5 and didn't know how to run because of the enclosed life he had lived.
Space had also become an issue in the new parts of the city. A house now had only a small section of space right up to its edge, where before there would have been a road, the grass verge, the footpath and then a front lawn, she said.
"Your gate would open right on to the road and the roads are not very wide."
The family speak a combination of English and Urdu, one of Pakistan's national languages.
Mrs Riaz said growing up she would speak Urdu with her family but she was taught English at school.
Private schools were taught in English but public schools used English and Urdu, which she said could sometimes be confusing for a child.
Schools today were also taken inside people's homes as rent for building space became so expensive.
"With no proper place for children to play, or run around. When my husband and I grew up we went to proper schools, but the government education now, you can't rely on it.
"The teacher training and syllabus is not reliable. So people want to send their children to private schools." However, the family have now settled into life in Tauranga with numerous visits to the different parks, beaches and forests the area has to offer.
Mrs Riaz said her husband could not live without a view, so their home looked out on to the hills surrounding Tauranga.
She said the family were made to feel so welcome in their new home and had been given welcome gifts and different offers of help from their new neighbours.
Mrs Riaz said now she didn't have to worry so much about her children playing outside and her family was blossoming.
Her husband is now planning to write a book.
"We wanted to be set up in a beautiful, calm and serene place and now Tauranga is that," she said.
Fast facts about Pakistan
Population: 162,420,000
Capital: Islamabad; 698,000
Area: 796,095 square kilometers (307,374 square miles)
Language: Punjabi, Sindhi, Siraiki, Pashtu, Urdu, English
Religion: Sunni and Shiite Muslim, Christian, Hindu
Currency: Pakistani rupee
Life Expectancy: 60
GDP per Capita: U.S. $2,000
Literacy Percent: 46