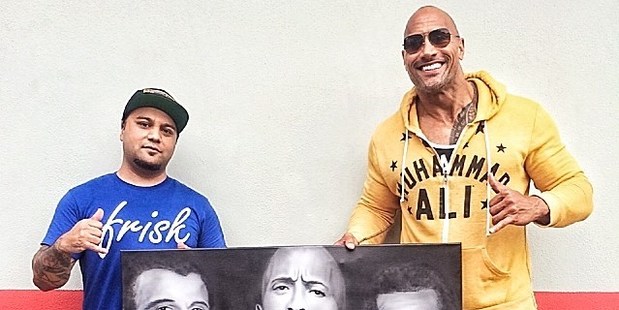 A Katikati artist said it was just like catching up with an old mate when he got the chance to meet Dwayne "The Rock" Johnson.
Jason Manukau only took up airbrush art three-and-a-half years ago but it has already led him to paint and meet American celebrities such as singer Jason Derulo and rapper The Game.
Based in Melbourne to be among the art scene, Mr Manukau had made a name for himself posting his works to social media sites Instagram and Facebook.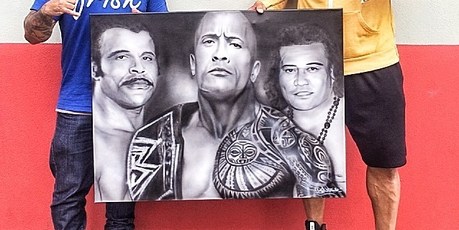 It was a friend who suggested painting Johnson but Mr Manukau never imagined he would get to meet the American actor and semi-retired professional wrestler in person.
However, his art progress photos posted to social media gained the attention of a friend of Johnson's stunt double who arranged the meeting.
Within a few weeks he had flown to the Gold Coast during Johnson's movie filming and was standing outside a Gold Coast gym chatting to the star.
"That was the coolest thing. He had just finished training so it was just like going to see your mates at the gym," Mr Manukau said. "We hung around talking for about half an hour. He's really humble."
They chatted about Johnson's time spent in New Zealand when he was growing up, Mr Manukau said.
Johnson posted a photo from the meeting with the artwork on his Facebook page, which received more than 600,000 likes and nearly 10,000 shares.
A coincidental second meeting at Johnson's Hercules movie premiere in Sydney was another highlight, he said.
"He pushed through his security and came over, gave us a big handshake and a hug," Mr Manukau said.
It showed the star really appreciated his work and meeting his fans, he said.
"A lot of celebrities will get stuff and just chuck it in a box. He told us he loved it but when we were there you could see it."
Mr Manukau said he hoped to paint Richie McCaw and the All Blacks in the future.
Dwayne Douglas Johnson
*American actor and ex-pro-wrestler.
*Took on "The Rock" as his professional wrestling name.
*First seven-time WWE World Champion.
*His father wrestled as "Rocky Johnson" and his grandfather wrestled as "Peter Maivia".
*Johnson briefly lived in Auckland with his mother's family.
*83 film credits on Internet Movie Database (IMDB)
*Net worth: $100,000,000 (US)