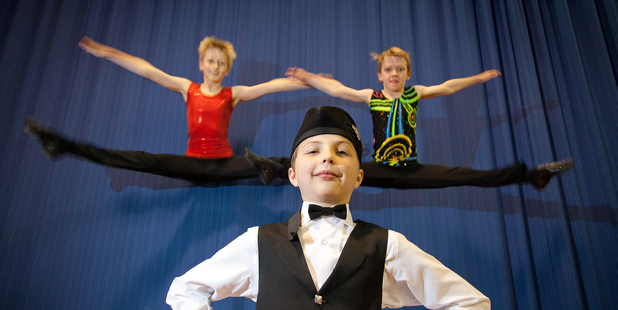 Baycourt and Tauranga Boys' College will host the 57th annual Tauranga Festival of Performing Arts in the first week of the school holidays.
Hundreds of talented young musicians, dancers and actors, whose ages ranges from pre-school to university, will compete in singing, speech, piano, instrumental, ballet, tap, modern dance and Highland national dance.
Tauranga Performing Arts Competitions Society president Cathy Gifford says children from as far as Northland and Wellington have entered, alongside lots of young performers from Tauranga.
She says some have entered three or four sections.
"They are all very talented, high achievers. The standard just gets higher and higher," she says.
John Tetley-Jones, 13, who studies at Dance Avenue in Greerton, has entered most categories.
John has been dancing for more than 10 years and says dance is his life. He recently competed in Wellington, winning several sections, as well as a $200 scholarship.
"I enjoy competitions because you get rewarded when you do well," he says.
"I've entered tap, jazz, hip-hop, musical theatre, contemporary dance and a few more categories, but tap is my favourite."
His mum, Janice Tetley-Jones, says John sets himself high standards and wants to become a professional dancer.
"He's passionate about it and so happy when he's dancing," she says.
Also looking forward to the competition week is nine-year-old Austin Taylor.
The Year 4 Pillans Point School student also dances at Dance Avenue and says he loves to dance because it is enjoyable and fun.
"I really like jazz, but especially musical theatre," Austin says.
Another dancer who loves being on stage is 11-year-old Matthew Karton, who studies at DEC in Matua and goes to Aquinas College.
Matthew has entered the ballet, jazz and Highland dance sections of the upcoming competition and says he likes ballet best.
Tauranga Festival of Performing Arts opens tomorrow and will conclude with the Festival Concert on Sunday, July 13, featuring the best from 10 days of dance, music and drama.
The Tauranga Performing Arts Competition Society competition week runs from July 4 through to July 13, from 9am to 9pm every day. Entry is $2 for adults and $1 for students per session.
The Festival Concert on Sunday, July 13, will be at 3pm at Baycourt. Entry for adults is $15, $10 for children under 13, and a family pass for 2 adults and 2 children is $35. A discount is available with a TECT Concession Card if tickets are purchased at the Baycourt box office before Saturday, July 12.
For the full programme visit: www.taurangacompetitions.co.nz.