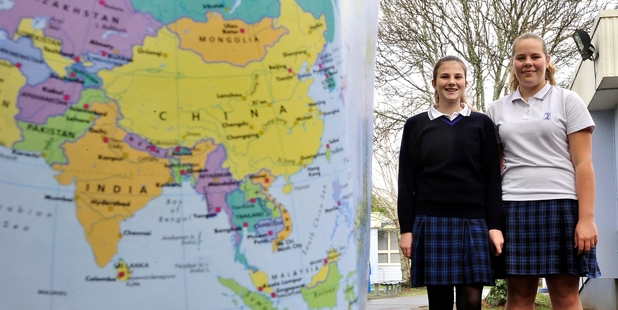 The relationship between New Zealand and China has improved hugely over its more than 140 years of existence, Tauranga Girls' College students are learning.
As ties between the two countries become more important, social studies teacher Murray Armstrong has included a module on the past and future relationship between them.
Students are learning how, from the mid-19th century onwards, Chinese immigrants came to New Zealand, most for the gold boom in Otago, and faced a lot of prejudice.
Anti-Chinese immigrant laws were introduced, including arrival taxes and limits on numbers.
Nowadays, New Zealand is reliant on China in many ways. It is the country's main source of imports and second largest export destination. Chinese tourists are now more numerous than Australians and, by the early 2020s, 30 per cent of Auckland's population is expected to be Chinese.
Because of the growing bonds between the two countries, Mr Armstrong said Tauranga people needed to be prepared for working and living with Chinese people, here and in China.
"While China is modernising, it's not Westernising. We will have to learn to make accommodations to China and Chinese rather than expecting them to make accommodations to us in the Western world. The Chinese consumer will dictate global patterns in decades to come."
Student Kayla Dawson, 13, said if the Chinese/New Zealand relationship were lost, it would be bad for New Zealand.
While learning about China, Kayla hoped to learn more about why New Zealanders had such a big problem with Chinese immigrants in the early years.
"Our multicultural society has grown and has links with China and other societies so there's a lot more understanding of each other. I think there's still a lot of work to do but it's getting better."
Chanelle Barton, 13, said more Chinese students were coming into Tauranga schools so there was more interaction.
"We can learn from them and they can learn from us, so we both get something out of it."
Chanelle would like to learn why the Chinese gold miners came to New Zealand.