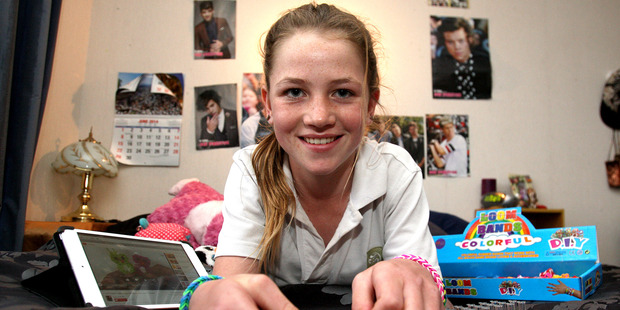 Tanika Sowry is keeping up with a craze sweeping the world - loom bands.
The 12-year-old Otumoetai Intermediate student started making bracelets with the colourful plastic rubber bands more than a month ago when other students at her school were doing the same.
Loom bands are made by weaving coloured rubber bands together with a crochet like hook and a plastic loom. The rubber bands are woven together to make friendship bracelets and have been seen on the arms of celebrities including David Beckham, One Direction's Harry Styles and pop star Miley Cyrus.
The Duchess of Cambridge was given two bracelets by two girls during her trip to New Zealand in April and both she and husband Prince William wore them afterwards.
Tanika said she enjoyed making the bands and the activity kept her busy outside of school - she has spent up to four hours in one sitting making different bracelets.
She would normally make them for her family and friends, has made more than 30 different bands in the month and was now moving on to make bigger pieces like animals, including owls and zebras.
Tanika said most of her friends at school made the bands with some girls selling them on to boy students for up to $8 for a more intricate piece.
The bands were mainly used to create bracelets and commonly exchanged as friendship bracelets but they were also used as hair ties, necklaces, anklets, animal toys and key rings.
Tanika's mother Karen Sowry said the bands were a good way for her daughter to express her creative flair.