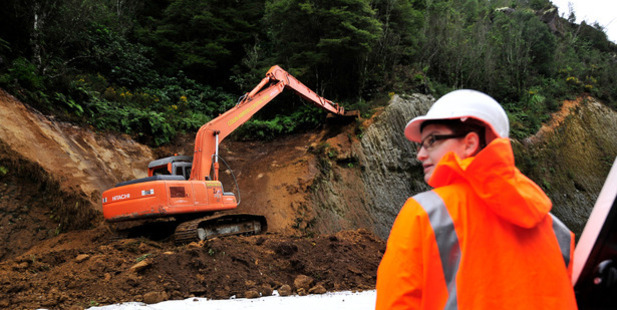 A section of State Highway 36 (SH36) at Mangorewa Gorge between Rotorua and Tauranga has re-opened tonight.
Contractors have cleared tonnes of soft soil and vegetation from the area to reduce the risk of slips in the area.
The section of SH36 was closed from 9am until 4pm today and yesterday, so a helicopter carrying a monsoon bucket could flush away soft soil and vegetation above the road.
The segment of SH36 had been down to one lane after a slip following heavy rain during Easter weekend.
One lane is now back open to traffic, however the NZ Transport Agency advises motorists to expect short delays tomorrow as contractors finish minor works in the area.
Both lanes of the highway are expected to be open late next week after a final inspection is carried out.
Low cloud meant the helicopter couldn't be used on Wednesday as planned, however contractors used diggers to make good progress on three of the four areas of focus until it could be brought in.
The Transport Agency's Bay of Plenty highway manager Brett Gliddon said the important work would help reduce the risk of slips in the future, making the road safer for motorists travelling between Tauranga and Rotorua.
"Contractors successfully cleared three areas using diggers on Wednesday and the fourth, largest section was cleared today with the help of a helicopter," he said.
"Upwards of 5000 litres of water was dropped today, to clear soft soil and vegetation above the road."
Mr Gliddon said using the helicopter on the last area was the safest option for both contractors and the public.
"The last area was very large and we couldn't get the digger in to work underneath it," he said.
"Using the helicopter was the safest option."