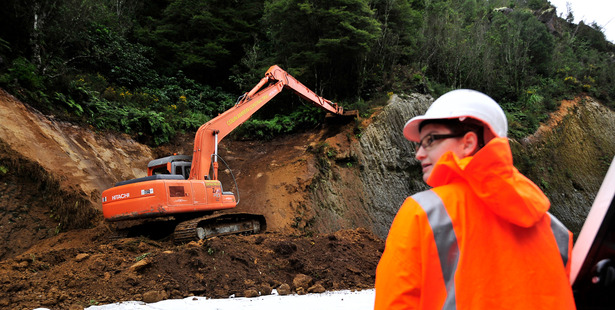 The closure of a main arterial route to Tauranga will continue today as poor weather hampers efforts to make State Highway 36 safer.
The section of SH36 at Mangorewa Gorge, between Tauranga and Rotorua, was closed yesterday as remedial works took place to reduce the risk of slips in the area.
Heavy rain fell throughout the Bay of Plenty yesterday afternoon and more wet weather was forecast for the rest of the week.
Motorists wishing to travel during the closure were advised to use SH2/SH33 via Te Puke.
A New Zealand Transport Agency said the works would continue today, meaning the highway would again be closed between 9am and 4pm.
Weather permitting, a helicopter carrying a monsoon bucket would be used to drop upwards of 5000 litres on the road during tomorrow's closure, sluicing away soft soil and vegetation above the highway.
If the weather conditions were unfavourable, the work would take place on the next clear day.
The spokeswoman said the closure time was chosen to allow commuter traffic travelling between Rotorua and Tauranga to pass through during peak hours.
The closure came as police warned motorists to take it easy on Bay roads.
Police said driving conditions were likely to be "far from ideal" over the next few days.
It was a reminder to do some basic checks on vehicles, like making sure lights were all working and tyres have good legal tread.