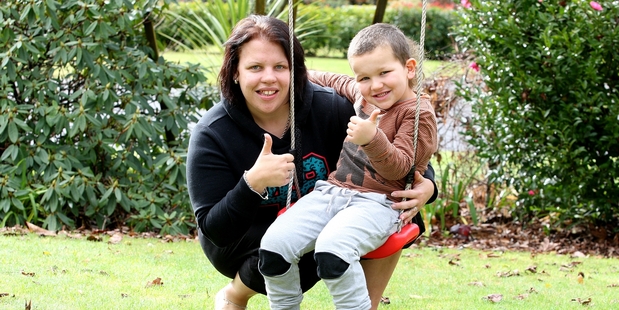 Bay of Plenty's Lucian Roebuck has always wanted to ride in a helicopter, ever since he was a baby. Last weekend he got the chance to live that dream after battling leukaemia for most of his short life.
Five-year-old Lucian, who has been in remission for the last 10 months, was chosen alongside 15 other ill children for a fun-filled weekend - Ticket of Hope.
The children spent the three days in Queenstown with a parent or caregiver courtesy of Cure Kids.
Lucian was diagnosed with leukaemia at 15 months and then spent every day of the next three-and-a-half years of his life undergoing chemotherapy.
Each of the children on the trip was given superhero names and super powers. Lucian was Eagle's Shadow which was able to fly through the air at fast speeds. Mother and son got to experience Skyline Luge, a bungy jump at AJ Hackett, a helicopter ride from Coronet Peak to The Hills golf course near Arrowtown, and a ride on the Kawarau Jet.
Lucian said his favourite part of the weekend was going up in the helicopter, being dropped at Michael Hill's golf course and riding on the jet boat.
He now undergoes monthly check-ups which will wind down to bi-monthly check-ups after a year of being chemotherapy- free.
Mrs Roebuck said Lucian would have to be in remission for five years before he is considered cancer-free.