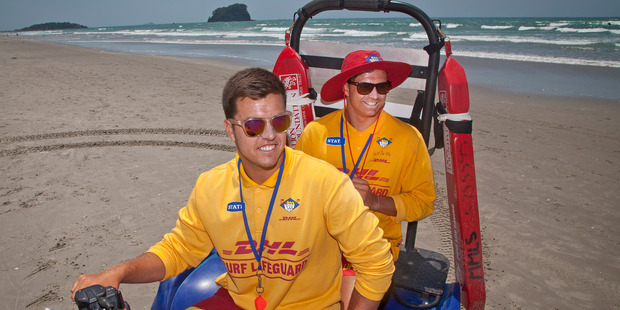 Swimming between the flags looks set to be introduced next summer into Mount Maunganui's popular Tay St Beach.
A report to the Tauranga City Council today from the Regional Lifeguard Service said the Tay St area had been an area of concern for many years because it lacked a surf club base.
The situation had improved by the council funding an increased frequency of roving patrols to Tay St and other areas.
It was now proposed to operate a flagged area on Tay St Beach for the peak summer holiday season, from December 28 to January 14.
Surf Life Saving New Zealand's eastern region manager Chris Emmett said the flagged area would complement the roving patrols.
He said a seamless continuity of service would be provided in the weekends that professional lifeguards were not operating by using volunteer patrols from the Omanu Surf Club.
The flagged area could be achieved within the current level of funding which totalled $152,000 for the 2013-14 season. It required a redistribution of staff across the first four weeks of the season to have the right level of cover at Tay St for the two weeks.
Mr Emmett's report said Surf Life Saving New Zealand would identify key beach accesses along the Mount/Papamoa coastline during the 2014-15 season to establish where additional hazard signs were needed to help reduce incidents.
Further work would also be done to gather statistics of beach usage at Papamoa East to allow them to put forward funding recommendations for future seasons.
Mr Emmett said no one drowned while swimming between the flags at Tauranga beaches last summer.
Seven lives were saved at the Mount beach by regional lifeguards last season and one person at Omanu. No lives were saved at Papamoa - in stark contrast to the 2012-13 season when 25 people were rescued.
Papamoa has the largest stretch of actively patrolled beach in New Zealand, measuring 12km from Girven Rd to Papamoa East.
The number of preventative actions carried out by the paid lifeguards totalled 3930 for the three beaches.