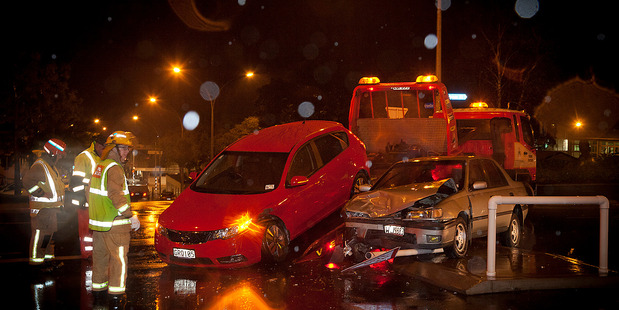 A city centre street was closed off to traffic earlier tonight after two cars crashed at the intersection of Durham St and Hamilton St.
Constable Pete Simmons said it appeared a car had failed to give way at the intersection or had failed to see the other car.
Emergency services were called to the collision about 5.15pm, he said.
"One vehicle was coming up Hamilton street and one was driving down Durham street and they have collided in the middle of the intersection.
"The red car has hit the right front of the silver car and pushed it up onto the island."
The woman driving the silver car had been taken to hospital for observation, he said.
Firefighters were assisting police by directing traffic around the top end of Hamilton street while the area was cleared tonight.
Within two hours, another crash blocked a busy city intersection.
A three car collision on the intersection of Cameron Rd and 15th Ave temporarily closed the area tonight.
Senior Sergeant Glen Saunders said the crash happened at 6.50pm and was minor but "momentarily" closed the road.