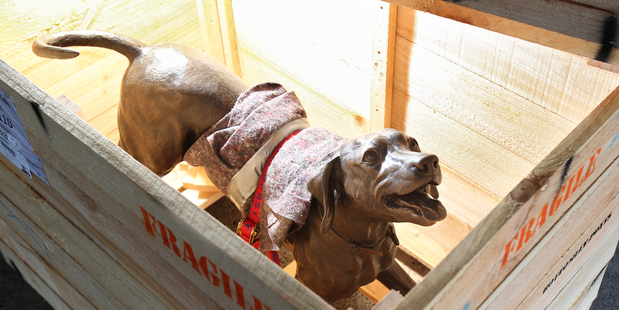 A sneak peak at Hairy Maclary's dalmation friend, Bottomley Potts, will be a treat for people attending a last-dash fundraiser for the bronze statues this weekend.
The Hairy Maclary Tauranga Waterfront Sculpture Project is hoping to get a helping hand from Tauranga dog owners this Sunday as the project nears completion.
People are invited to bring their dogs and join the Hairy Maclary and Friends Fundraising Dog Walk starting at 10am at Memorial Park.
The walk will go along Devonport Rd to the sculpture site on Tauranga Waterfront on The Strand.
Creative Tauranga chief executive Tracey Rudduck-Gudsell said with only $139,000 left to raise of the $700,000 project, they were working hard to get it finished.
"We would like to start installation late July... Installation would take about six weeks so we hope to do the unveiling in August ready for a big birthday party in September.
"Bottomley Potts will be down there on Sunday so people will be able to see the actual size of them.
Bottomley Potts had already proved very popular on show at their gallery space with daily visitors, she said.
"The excitement on some of the children's faces is overwhelming."
Registration for the fundraising walk is a gold coin donation and all proceeds will go towards the nine bronze statues - Hairy Maclary and his eight bronze friends.
People are encouraged to "bring your dog, dress up as your favourite Hairy Maclary character - or just join in all the fun!".
A sausage sizzle for the people and special sausages and water bowls for the dogs will be at the finish line for everyone involved, along with storytelling and a few surprises.