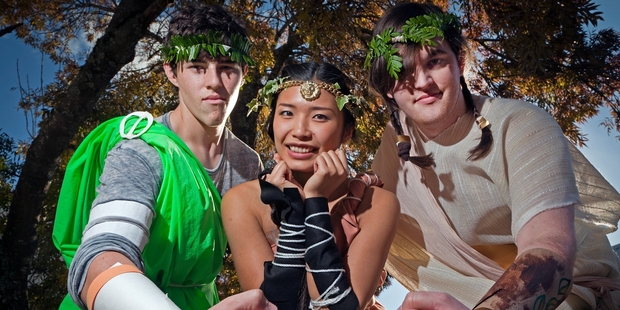 The Bay of Plenty Polytechnic's new creative industries degree has caught the art and design industry's interest.
This year was the first time the course had been offered and about 60 students signed up, aged from 18 to 55.
Programme co-ordinator Nicol Sanders-O'Shea said there had been a good industry response to the degree.
"We have had support from the industry to be involved with what we're doing and actually giving us ideas about what we can do in future with them and also the bigger picture," Mrs Sanders-O'Shea said.
When the Bay of Plenty Times visited, Emily Sturrock, who worked with Weta for 14 years, was teaching the class about lateral thinking and creative problem-solving techniques through practical exercises.
The class was given a task to create a Roman costume with four specific elements that had to be researched in 45 minutes and created with materials in the classroom.
Mrs Sanders-O'Shea said her students were full of enthusiasm about trying new experiences and working together collaboratively.
"They're learning problem-solving and about new techniques as well as learning more discipline specific knowledge."
Daniel Kirstein, 18, said he enjoyed the course because of the collaborative work environment.
"We're all getting more skilled and learning from each other. The course is putting us out there knowing what we need to know for all the different design components. During the launch, companies were more excited to meet us than we were them."
Nancy Zhang, 22, said she had met industry people at the degree's launch and had talked with them about how to work towards becoming a fashion designer.
She said the course was forcing everyone to think outside the box.
Tom Killen, 24, said he had been learning how to see the world in a different way.
"I'm seeing whole new uses for things."
A graphic design major, Mr Killen had been learning the ins and outs of the industry software. He had also enjoyed the photography section of his course.