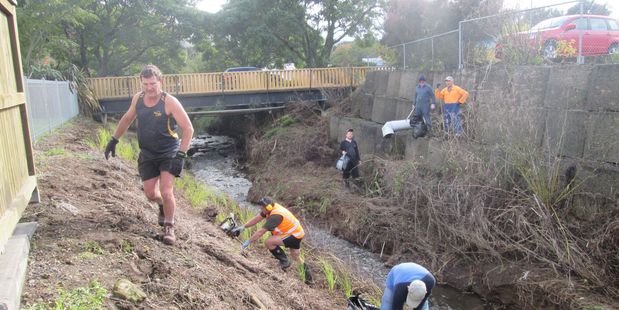 Waihi streams and tracks are to get a spruce up.
Habitat Enhancement and Landcare Partnership (Waihi) chairperson Warwick Buckman said the society had received funding from the Honda Tree Fund and the local Jim Say Foundation to make a start on the area downstream from the town bridge - Mangatoetoe Stream.
Further funding has been applied for from the Ministry for the Environment and the Jim Say Foundation, with the results known in August.
The aim is to continue work started by Newmont Waihi gold near the Goat Track and clean up the stream banks all the way to the Ohinemuri River.
Full time staff Chris Parr and Ash Cooper had previously sprayed the stream bank between Hella and Waihi Mitre 10, removed some of the weed trees blocking the stream flow and scrub-barred much of the debris.
Last week was the start of planting, with Society members Mitch Aitchison and Kevin Merriman, collecting rubbish from along the bank and then helping with the planting
Mr Buckman said this part of the watercourse is being planted in sedges, with a line of flax along the Hella carpark.
Further downstream, where space permits, a wider range of native plants will be used.
"While the Society has made contact with some of the streambank residents or owners it would welcome further discussions and the public is most welcome to participate in the project.
"Some parts of the steam bank have been well cared for but other parts are a mess of rubbish, weeds and dirty water inflow. It is hoped that over the next few years the stream bank can be restored to a valuable town amenity," said Mr Buckman.
For more information see www.waihihabitat.co.nz or contact Warwick Buckman .